The Tastiest Weed Gummies Recipes For 2023
Are you looking for the best weed gummies recipes to satisfy all of your sweet cravings? Look no further, we've got you covered. 
Out of all of the canna gummy recipes available online, this one will give you all of the benefits you desire with maximum flavour and aroma. 
Not only will you learn how to make weed gummies, but you'll uncover must-know facts about edibles, their effects, dosage recommendations, and much more. 
Plus, you'll learn about where you can get cheap weed in Canada that's tasty, powerful, and most importantly, safe.
Keep reading to find out which weed gummies recipes is the best for 2023.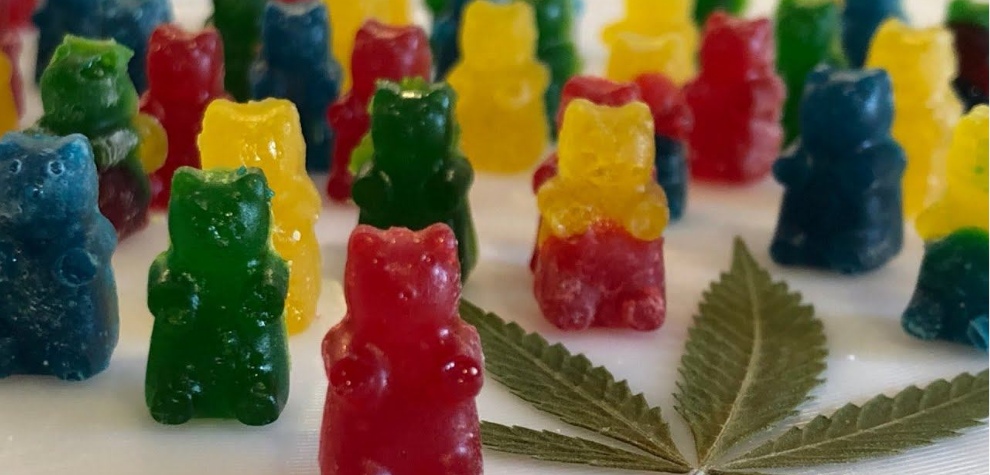 The Only Weed Gummies Recipe You'll Ever Need
The internet is full of canna gummy recipes, but not all of them are worth your time and effort. 
Unfortunately, there are many recipes out there that won't yield the results you want. The good news is that the weed gummies recipes below actually works! 
Remember, you don't have to be a professional to learn how to make weed gummies. 
All you'll need is a few quality ingredients and some patience. With that in mind, we always recommend shopping for cannabis products from reliable sources. 
Select a weed store such as MMJ Express for credibility and transparency. 
MMJ Express is the best place to get weed online in Canada because you are presented with a wide selection of top-grade cannabis products at the most affordable prices. 
Get some cheap canna today without risking the side effects of unregulated weed.
That being said, before learning how to make weed gummies, you need to master the decarboxylation process. 
This is the first and key step in making delicious edible weed that will give you the benefits you need. 
What is decarboxylation? 
In short, decarboxylation is the process during which the compounds in cannabis are activated. Namely, this process helps convert THCA into psychoactive THC.
If you do not decarboxylate your cannabis properly or you skip this step entirely, you will end up with ineffective edible weed. Fortunately, decarboxylation is easy. 
All you need to do is grind up some quality cannabis, place it on a baking sheet or foil and chuck it into the oven for up to 45 minutes at approximately 105-120°C or 220-245°F. 
Always keep an eye on the weed, as it can burn easily.
The next step in making cannabis gummies is to make some delectable cannabis-infused coconut oil that you can use for the gummies recipe. 
After you've successfully decarboxylated the cannabis, heat one cup of extra virgin coconut oil in a pan until it reaches around 55-65°C. 
Next, add around 3.5 grams of the decarboxylated weed and simmer the mixture for around three hours. Make sure to stir often. 
Finally, you'll want to strain the mixture to remove unwanted plant matter. 
Voila, you have a fresh batch of amazing weed-infused coconut oil for your edible gummies recipe.
You are almost ready to make your own customized edible gummies. Prior to the recipe, you also need to grasp how emulsification works. 
Since cannabis oil does not naturally bond with the melted ingredients in edibles or water, you will need to use an emulsifier. 
We recommend using sunflower or soy lecithin, as this will give your gummies the best consistency. 
What if you don't want to make cannabis oil? Can you opt for extracts or tinctures? 
Yes, you can. 
However, the weed gummy recipe below calls for cannabis oil (since this is the easiest and the quickest way to make yummy edibles). 
Now that we've got that out of the way, here's what you'll need to whip up the perfect batch of weed gummies.
Ingredients required:
0.5 cup of cold water

0.5 cups of weed-infused coconut oil

2 tablespoons of unflavoured gelatin

86 grams of flavoured gelatin

0.5 teaspoons of soy or sunflower lecithin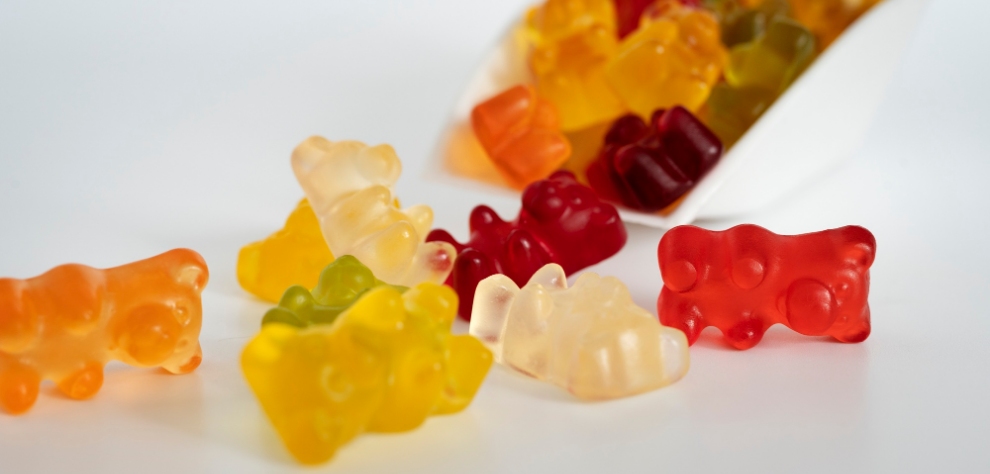 Step-By-Step Guide for Making the Best THC Gummies
Step 1

: Add the cold water, the soy or sunflower lecithin, and the weed-infused coconut oil to a pot. Place the pot on the stove and begin heating the mixture on a low setting.

Step 2

: Stir continuously to make sure that the mixture develops a consistent texture. Add the unflavoured and the flavoured gelatin, and keep stirring until it is well incorporated.

Step 3

: Mix the concoction for up to 15 minutes until the gelatin is fully dissolved. Do not let the mixture come to a boil.

Step 4

: Strain the blend via a fine-mesh strainer to catch undissolved gelatin, lumps, or unwanted impurities. You should end up with a smooth mixture.

Step 5

: With a dropper, start filling your gummy moulds. Make sure to do this step quickly, as the liquid can separate when cool. 

Step 6

: Once you are done, place the mould into the freezer for up to 25 minutes.
That's it, making THC gummies is extremely easy and fool-proof! Once the 25 minutes are up, you can begin devouring them. 
Naturally, you'll want to be mindful of the portions and adjust according to your needs. It is best to store the gummies in the fridge.
But, how many THC gummies can you consume? 
The answer will depend on a variety of factors, including your tolerance level, your experience with edible weed, and the potency of the cannabis used in the recipe.
To achieve the best results, we suggest starting with the lowest dose and checking in with how you feel. Only increase the dose if necessary. 
It is also a good idea to begin with half of a gummy, especially if this is your first time preparing this recipe. Here is a rough estimate of what you can expect. 
For instance, if you use 3.5 grams of weed with around 20 percent of THC, then every teaspoon of cannabis oil will provide you with approximately 14 milligrams of THC.
The Best Cannabis Gummies from Our Weed Dispensary
Here are the best edible gummies to buy from our pot store, MMJ Express. 
Check out these reviews and get some mail order marijuana today.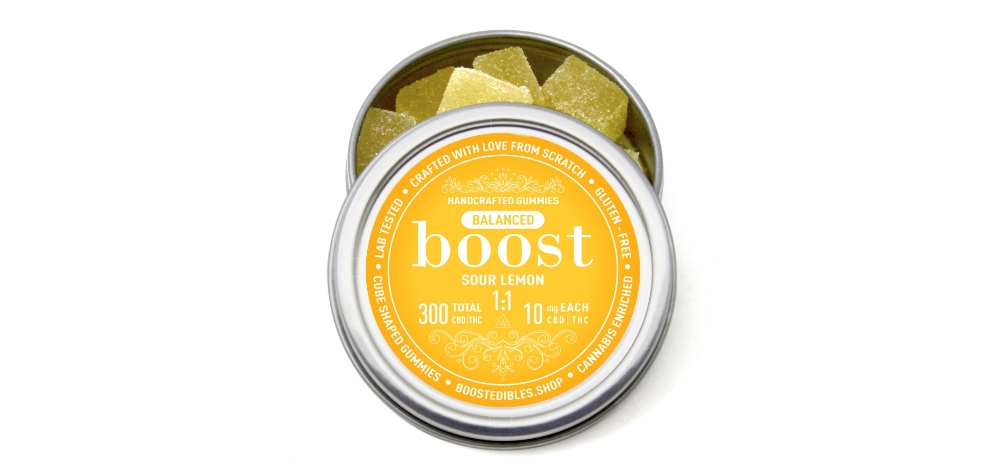 Boost Edibles Balanced 1:1 Sour Lemon Gummies 300MG
The Boost Edibles Balanced 1:1 Sour Lemon Gummies 300MG are the juiciest and tastiest edibles for stoners seeking pain relief and calmness. 
The best thing about these gummies is that you'll get equal parts of CBD and THC (150 milligrams each). 
This means that you'll also enjoy the entourage effect. In the entire tin, you get 300 milligrams or 20 milligrams (10 mg THC and 10 mg CBD) per gummy. 
In total, you get 15 yummy gummies for discreetness and convenience. 
Purchase the Boost Edibles Balanced today for $40.
Ganja Edibles – Cola Gummy Bears 150MG THC
The gummy bears are back in town, and with 150 milligrams of THC, they're not playing around. 
Buy the Ganja Edibles – Cola Gummy Bears 150MG THC and enjoy 10 x 15 milligrams of full-spectrum goodness for anxiety, stress, sleep disorders, and many other ailments. 
The cannabinoid content is laboratory tested at 75.26 milligrams per gummy. That's impressive, considering that the Ganja Edibles cost only $11 on sale. 
Get some today before they're all sold out.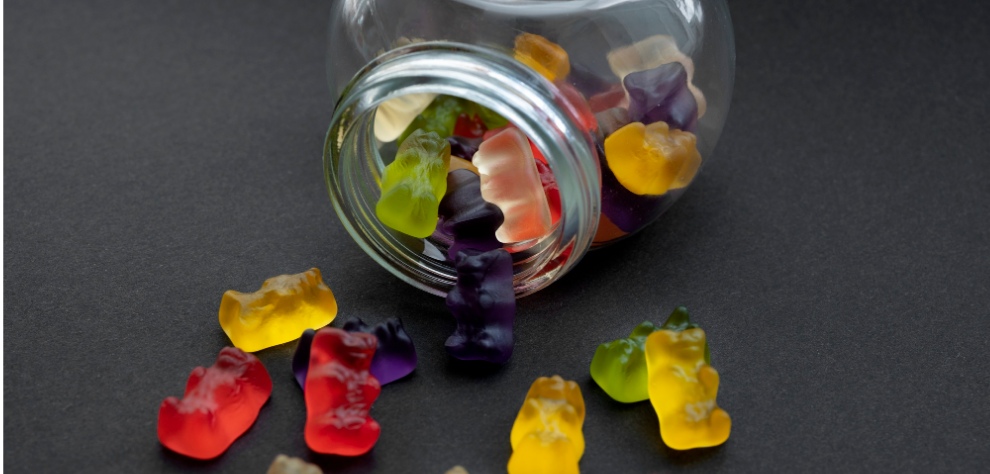 What are Edibles?
You can find mouth-watering THC gummies at almost every better-equipped dispensary. 
But what are edibles and why are they booming in popularity? Are they worth the price point and how effective are they in treating medical conditions? 
In the simplest terms, edibles refer to cannabis beverages and food products infused with weed (such as these scrumptious edible weed cookies).
These products contain cannabinoids like THC and CBD (some may be completely void of THC, the psychoactive compound in weed). 
For instance, THC gummies are just that – salivating gummies with tons of THC in them! They'll make you feel high beyond belief. 
What makes them popular? Consider this. Edibles are extremely powerful and the effects are almost eternal. 
While you will need to wait around 30 minutes to two or four hours to feel something, the effects can linger for up to 24 hours. 
On average, an edible high will last about 12 hours. 
If you want to experience the longest-lasting and most intense high yet, make sure to purchase edibles from reliable sources. 
Choose MMJ Express, the number one Canadian online dispensary for stoners with good taste. Buy weed online safely – you deserve the best.
Are Canna Gummy Recipes Suitable for Beginners?
Yes, weed gummies are not only designed for experienced cannabis users. In fact, due to their simplicity and convenient use, edibles may be one of the best options for cannabis beginners. 
Nevertheless, it is always best to practice safe and responsible cannabis use, no matter your experience and tolerance level. Make sure to start slow and low. Only increase the dose if necessary.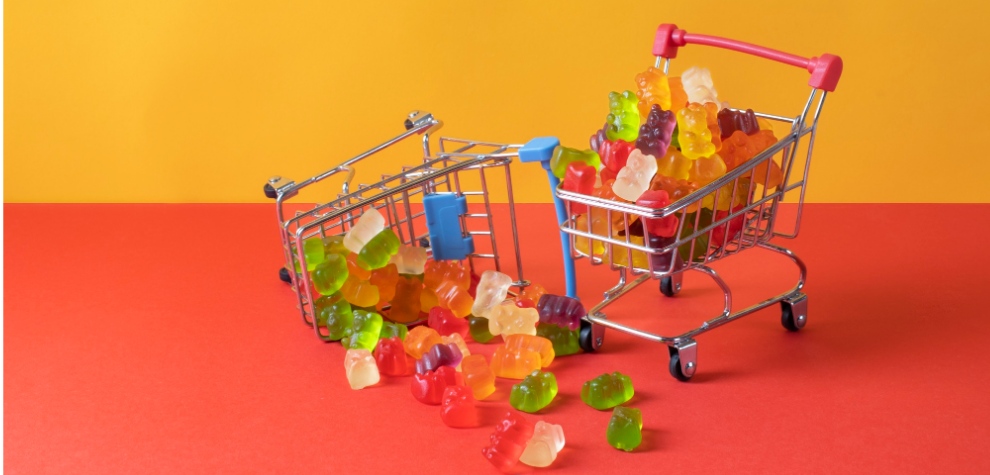 Where Can I Buy Weed Online?
While having the best weed gummies recipes up your sleeve is a fantastic idea for any occasion, sometimes you want to buy edible gummies straight from your favourite pot store. In that case, get weed online in Canada from MMJ Express. 
Purchase the finest mail order marijuana today and save a fortune on the highest-grade cannabis available.