The Best Edible Weed Cookies That Taste Home-Made and Fresh
Crunchy, mouth-watering, and ultra-powerful — have you ever tried edible weed cookies? No, you haven't? Well, you are seriously missing out! 
Weed cookies are the perfect treat after a long day's work or before bed when you just want to "chill out". 
They are delicious, decadent, and the resulting high is super long-lasting. Are you ready to try out marijuana cookies and find out what the hype's about? If so, you have come to the right place. 
We've looked high and low for the best edible weed cookies for 2023, and that's how this article was born. 
For your convenience, we've gathered up the best marijuana cookies from our weed store, MMJ Express, that rank highest in terms of flavour, texture, efficacy, and price. If you are a stoner on a budget looking for cheap weed in Canada, we've got you covered as well. 
On top of that, you'll uncover the most decadent pot cookies recipe that's easy and quick to prepare. 
That being said, here's what you must know about edible cannabis cookies.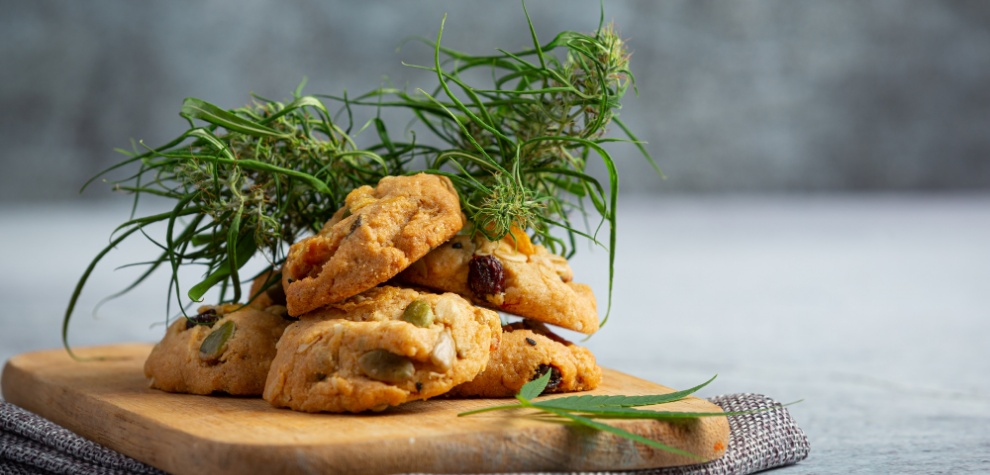 What are Edibles?
Before you take a bite of the most luxurious weed butter cookies, let's address the elephant in the room. What are edibles and why are they taking the cannabis world by storm? 
In brief, edibles are edible cannabis products that contain beneficial cannabinoids that you can drink or eat. 
As a reminder, cannabinoids are amazing chemical compounds in weed that, when consumed, can affect the body and mind. 
Two of the most famous cannabinoids are CBD (cannabidiol), which is non-intoxicating and which provides a wide array of health benefits, and the other is THC (tetrahydrocannabinol), the psychedelic compound in weed. 
Nowadays, you can find many different cannabis edibles at your favourite pot store. For instance, almost every better-equipped weed store in your area will likely have cannabis edibles in the form of muffins, cakes, lollies, gummies, syrups, and chocolates. 
While all cannabis edibles are loved equally, stoners seem to be especially obsessed with marijuana cookies. Why? Cookies make every pothead's life more fun and enjoyable!
Head to MMJ Express, the best place to get weed online in Canada, and find out what's the buzz about. 
Besides delicious and potent cookies, this dispensary also offers an impressive collection of rare and popular dry herbs, concentrates, vapes, mushrooms, and many other cannabis products for both beginners and more advanced users.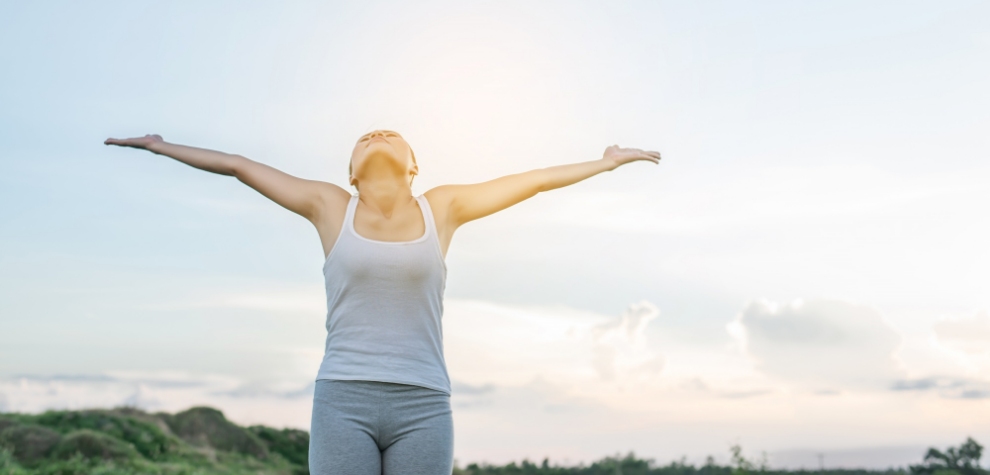 Effects of Weed Cookies
There are a few important things you need to know about weed cookies. Firstly, you'll always want to read the product's label carefully. 
Whenever in doubt, it is also a good idea to ask a budtender at your dispensary for recommendations and advice. 
If you are going to treat serious medical conditions with edibles, we also highly recommend seeking out the guidance of a medical professional.
That said if you are a beginner or you are sensitive to weed, start slow and low. According to the experts, start with no more than 2.5 mg of THC. 
Only increase the dose if necessary. 
Since edibles take some time to kick in, you will want to wait for the onset of the high and check how you feel. Never attempt to increase the dose too early. 
Generally, weed cookies and other edibles may take around 30 minutes to two hours to take effect. In fact, sometimes users may need to wait up to four hours to experience the signature high. 
How long does an edible high last? 
On average, you can expect an edible high to last up to 12 hours. Some stoners may experience residual effects that last up to a whopping 24 hours! 
Pothead newbies and users sensitive to THC will always want to use edibles in a safe and calm environment. 
While side effects are unlikely to happen when the appropriate doses are used, there is always a slight risk. 
Make sure to practice mindful and responsible cannabis use, no matter your experience level.
The effects of edible weed cookies are the same as when using your favourite cannabis strains. This means that weed cookies will make you feel relaxed, blissful, happy, and calm. 
The effects of edibles are usually stronger and longer-lasting, so expect the unexpected! 
Both recreational and medical cannabis users can enjoy marijuana cookies for anxiety relief, mild to moderate depression, stress relief, and many other conditions. 
If you are dealing with tension, insomnia, inflammation, and chronic pain, edibles may be a good choice for you.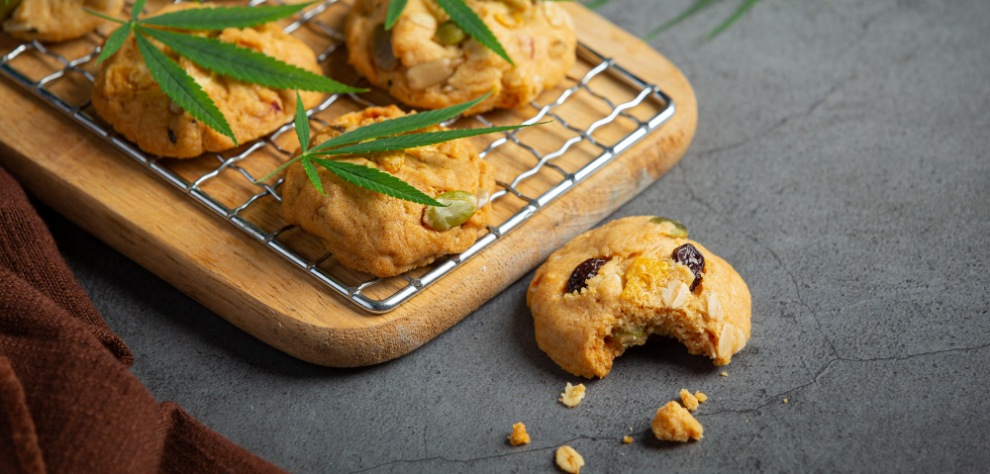 The Best Marijuana Cookies from Our Weed Dispensary
If you are lazy to bake and you are looking to satisfy your sweet tooth, these weed cookies are ideal for you. 
Check out the following detailed reviews to gain insight into the characteristics and benefits of each dessert. 
You can get them at MMJ Express, the best weed store in Canada.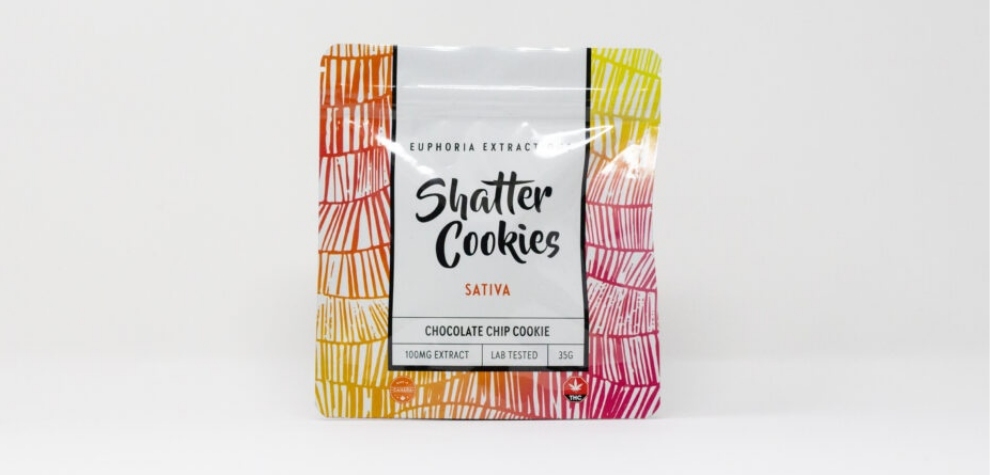 Euphoria Extractions – Shatter Cookies 100MG (Sativa)
The Euphoria Extractions – Shatter Cookies 100MG (SATIVA) is a powerful sweet treat that will brighten even the gloomiest winter days. 
Each yummy edible weed cookie contains 100mg of laboratory-tested 99 percent full spectrum isolate for an intense and long-lasting high. 
In each pack, you get one Sativa cookie to lift your spirit, improve your mood, and make you feel energized. 
According to users, these Euphoria Extractions Shatter Cookies are a good choice for recreational and medical users dealing with inflammation, stress, joint pain, and appetite loss. 
These cookies also make one of the best gifts for weed lovers.
Buy them for only $12.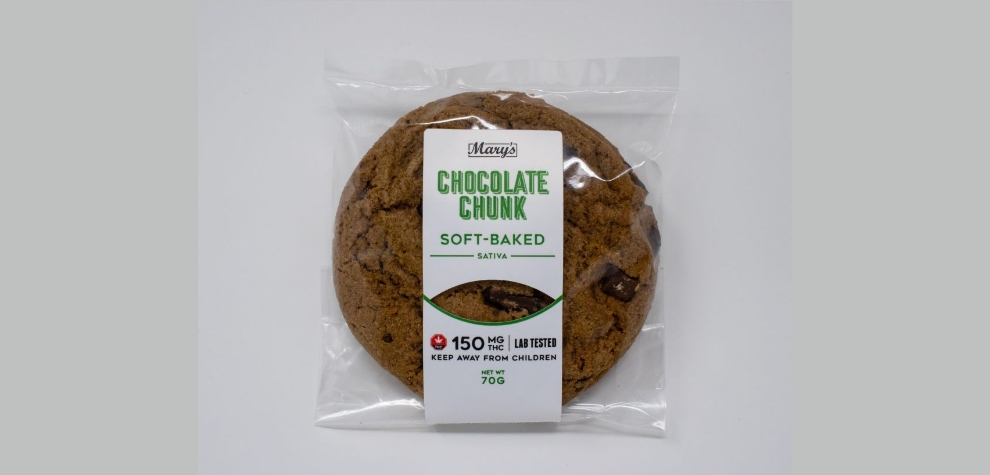 Mary's Medibles – Classic Chocolate Chunk 150MG (Sativa)
Iconic and unmatched – that's Mary's Medibles Classic Chocolate Chunk 150mg Sativa in a nutshell. 
While the market for cannabis cookies is becoming oversaturated and highly competitive, these delicious classic treats remain a staple in every stoner's pantry. 
Each cookie contains 150mg of THC for a balanced euphoric effect. 
According to customers, these edible weed cookies will give you a serotonin boost to regulate your mood, improve sleep levels, and ward off anxiety and stress. 
If 150mg is not enough for you, you can also opt for the equally tasty Mary's Medibles White Chocolate Macadamia Nut with 300mg of lab-tested THC. 
For as low as $12, these cannabis cookies are unbeatable.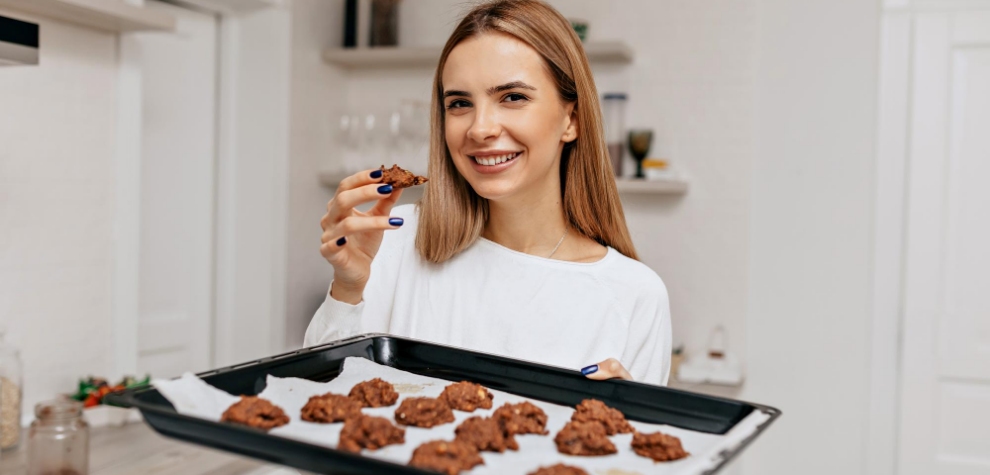 The Only Pot Cookies Recipe You'll Ever Need
Here it is, the best pot cookies recipe on the internet. 
If you are short on time and you want to whip up a delicious batch of soft and gooey cookies for your friends (or for yourself to enjoy!), this is the perfect recipe for you. 
All you'll need is a few simple ingredients you may already have lying around your kitchen. If not, head to an online dispensary like MMJ Express and gather the missing ingredients. 
When you are ready, start preparing these decadent weed butter cookies.
Ingredients you'll need for the cookies:
½ cup cannabutter

½ teaspoon salt

1¼ cups all-purpose flour

½ teaspoon baking soda

¾ cup sugar (white, dark brown sugar or cannabis sugar are suitable alternatives)

1 egg

½ teaspoon pure vanilla extract

1 cup of toppings of your choice (you can choose M&M's, coarse sea salt, nuts, seeds, chocolate chips, or any other toppings you'd like)
The weed butter cookies recipe:
Step 1

: Preheat your oven to 190 degrees C or 375 degrees F. Line one or two cookie sheets with parchment paper (depending on the size of your cookies, but this recipe makes a big batch).

Step 2

: Whisk your dry ingredients in a large bowl and avoid clumps.

Step 3

: In a separate bowl, cream the sugar and the butter until fluffy.

Step 4

: Incorporate the vanilla and egg into the creamed butter and set aside.

Step 5

: Add the dry ingredients to the wet and beat the mixture with a hand mixer until everything is evenly incorporated, but make sure not to overmix (as this can yield tough cookies).

Step 6

: When you get your dough, fold in the extra toppings of your choice.

Step 7

: Make dough balls (the size will depend on you!) and put them evenly a few inches apart on the baking sheets.

Step 8

: Bake the weed butter cookies in the oven for up to 10 minutes.

Step 9

: Remove the golden brown cookies from the oven and let them cool completely.

Step 10

: Dig in!
If you are missing any key ingredients, check out our online dispensary. 
You'll find some exclusive cheap canna that you can incorporate into the cookie recipe for an added touch of yummy!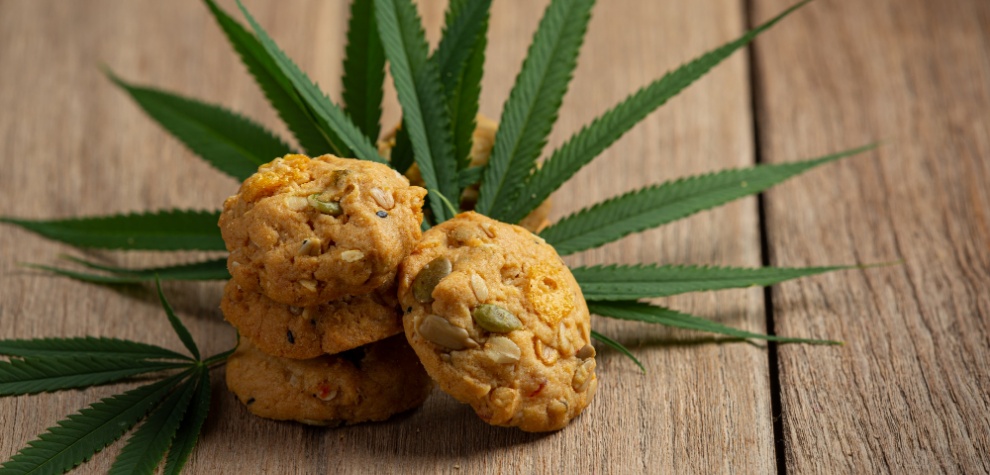 FAQ
Are marijuana cookies suitable for beginners?
Yes, both beginners and experts can indulge in cannabis cookies. 
However, if you are just getting started with weed, make sure that you are using minimal doses. Only increase amounts if required.
How long does an edible high last?
An edible high will usually last up to 12 hours, with residual effects occasionally lasting until the next day! 
Nevertheless, the exact time frame will depend on a variety of factors, such as your weight, tolerance level, metabolism, and the product's overall potency.
When will I feel the effects of edibles?
You might feel the onset of the high in just 30 minutes. However, this may take longer, and some customers report having to wait around two hours for the effects to kick in.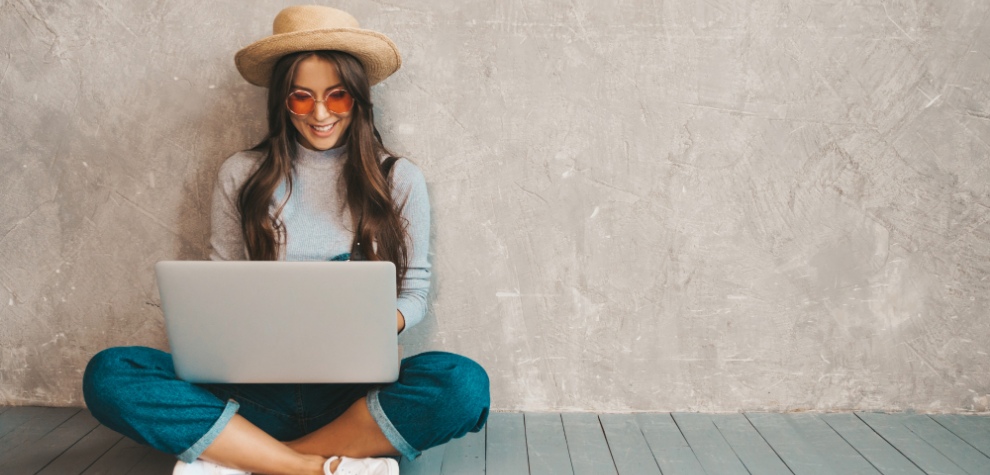 Where can I buy weed online in Canada?
You can get edible weed cookies and many other premium-grade cannabis products at MMJ Express, the best online dispensary in Canada. 
Shop for the tastiest and most pungent value buds without going over your budget. 
Buy some mail order marijuana today and grab the hottest buds without having to leave your home.