The Best Way To Grind Cannabis for a Perfect Smoking Experience
The legalization of cannabis has led to the crop-up of many different types of cannabis products, including concentrates, topicals, edibles, vapes, and CBD/THC oils.
However,  cannabis flowers are still leading the charts as the most sought-after cannabis products.
Most flower lovers point to potency and terpenes profile as the fuel for their love for these authentic herbs.
According to cannabis connoisseurs, the best way to consume your favourite buds is to light it up in a bong or roll it up in a joint and smoke.
And as a bonafide flower consumer, you've probably tried both of these methods. But did you know there's a way to enhance your toking session?
Grinding weed before packing it in a bong bowl or rolling it up in a joint can take your toking session to the next level.
No, a weed grinder is not necessary to achieve perfect grinding consistency. The best way to grind cannabis doesn't have to involve specific equipment or special skills.
Read on to learn easy ways to grind your weed using regular kitchen items.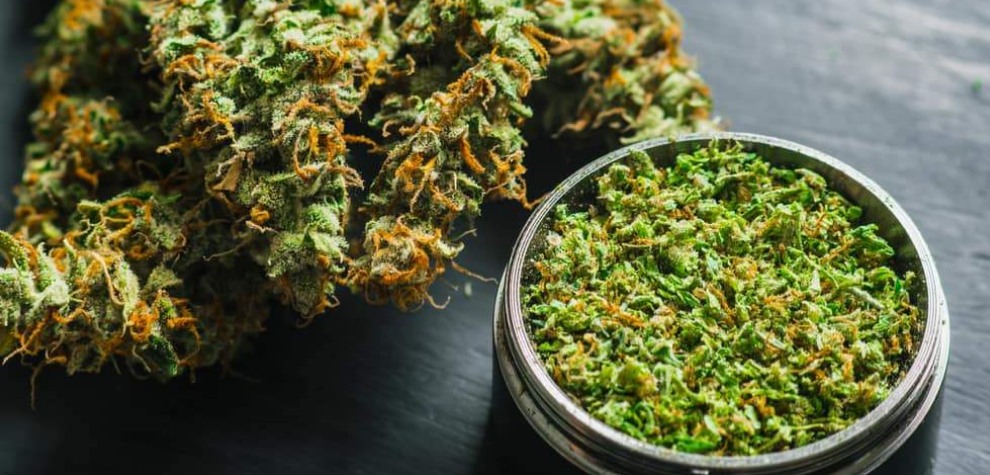 The Importance of Properly Grinding Weed
With weed packing a lot of wellness benefits and pleasant psychoactive effects, your goal is to consume every last bit of it. For that to happen, your joint or bowl needs to burn evenly and thoroughly.
Nothing is more frustrating than lighting up a joint and watching it burn on one side or a bud that only gets charred outside or disappears down the stem of a bong.
Such is the frustration that stems from ungrounded flowers.
When your nugs are evenly broken down and shredded, as with grinding, all the cannabis bits will burn completely, leading to no wastage.
The overall benefits of grinding up your buds before smoking include the following:
Reduced clogging in your bowl and blunt

Better airflow within the weed ground for better burning

smoother rips and hits

You'll have an overall better experience as you toke
Here are some more reasons why grinding weed is a great idea.
 Better Distribution of Flowers
It's not feasible to smoke an intact bud as airflow that supports burning will not get through the tight-packed bud crevices making the fire snuff out before the entire bud is consumed.
Grinding your bud loosens up the flower, evenly distributing it, allowing air to flow through it and support the burning during smoking. The evenly distributed flowers will burn evenly, eliminating the possibility of a half-burnt joint.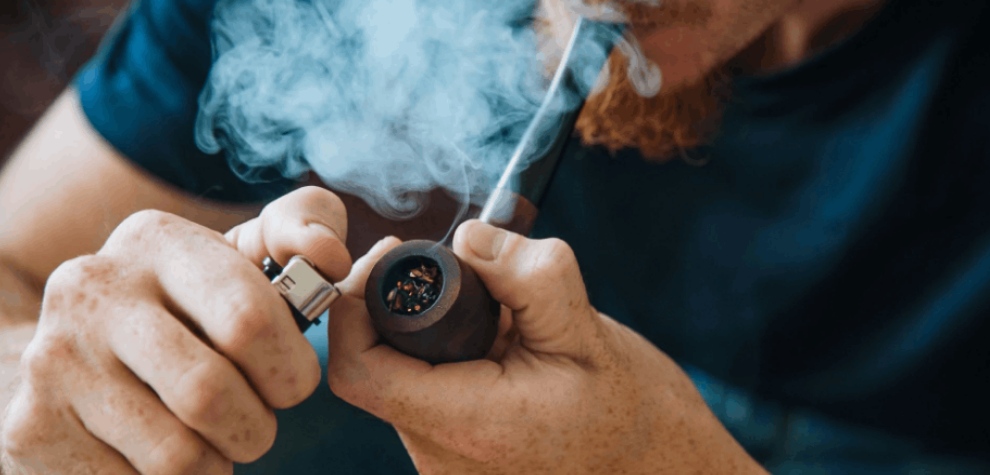 With nicely ground flowers, all your hits will be smooth and similar as the cannabis burns evenly.
As a result, you can expect a consistent experience which makes it easy to measure how many puffs it takes to get you high.
Appreciation for Robust Cannabis Flavours
There are thousands of cannabis strains out there. Each strain boasts a unique flavour and aroma profile thanks to unique terpenes and cannabinoids.
Grinding the weed breaks up the cannabinoid and terpenes, releasing robust flavours and aromas. The pungent aroma tones will give you a new appreciation for cannabis.
If you love your weed deliciously mouth-watering with hints of sweet berries and cheery notes, grinding up some Georgia Pie AA will lead to a release of sensational fruity flavours.
Conversely, a strain like Master Tuna AAAA  boasts the classical skunky weed smell with hints of old spice and sharp citrusy notes.
Whatever your flavour, when it comes to weed, MMJ Express will have a strain to tickle your fancy.
7 Ways to Grind Weed With or Without a Weed Grinder
After stocking up on all your favourite weed strains from your favourite mail-order marijuana dispensary in Canada, only one thing stands between you and an enjoyable toking session; properly grinding your weed.
So, what is the best way to grind cannabis?
The six methods listed below will help you DIY your way to finely ground flowers. If you have a weed grinder or plan to get one, method seven is for you.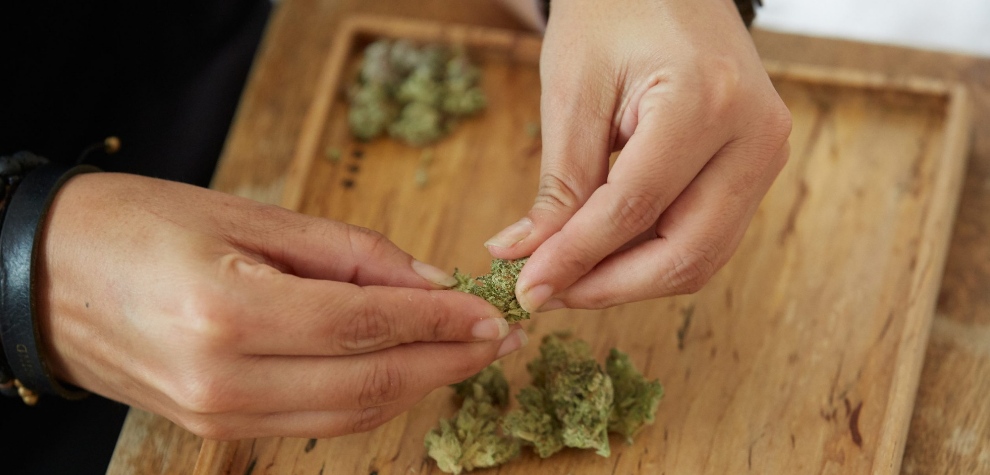 Break It Up With Your Hands
If you're strapped for resources, your hands can come in handy to help you grind weed.
Make sure your hands are properly clean and dry, then follow the highlighted steps below:
Separate the nugs from the stems

Place the separate nug in a clean container or plate

You can either rub the nugs between your hand or between your finger as you let them fall into a new container
Chopping Board and Knife
Here's the best way to grind cannabis using a chopping board and a knife:
Place large nugs onto the chopping board

Begin to slice and cut the nugs into smaller pieces, just as you would with garlic

Use the knife to scrape the separate nugs, and keep slicing and chopping until you reach your desired consistency.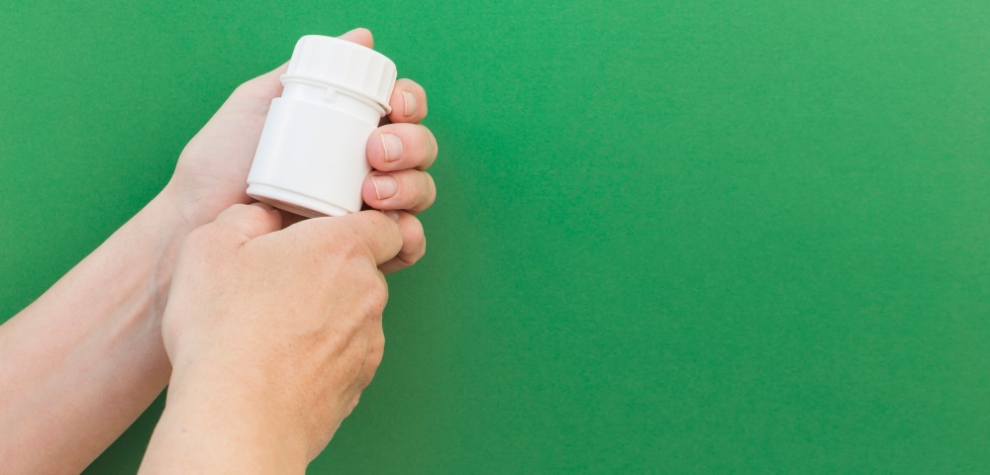 The Pill Bottle and Coin Method
Another way to reduce nugs into smoke-ready pieces is by shaking them up in a pill bottle with a coin inside.
As the coin bounces around the bottle from wall to wall, it will cut through the nugs, splitting them into finer pieces.
Fair warning, this method may cause your weed to take on a metallic smell and flavour or diminish in flavour.
With that said, the pill and coin methods will give you incredible flower consistency and enable you to collect kief.
Due to the static charges generated as the weed rubs against the pill bottle, kief gets stuck around the wall of the pill bottle.
Here's a step-by-step process on how to grind weed using the coin-in-pill bottle method:
Properly clean and dry the pill bottle and coin (nickels work best as they're heavier)

Place the coin at the bottom of the empty pill bottle

Load your nugs on top of the coin, leaving some headspace so the content can freely bounce around

Screw the pill bottle lead on and vigorously shake the bottle

Once you're happy with the consistency, remove the kief from the wall of the container before dumping the ground flowers in a clean mason jar for storage.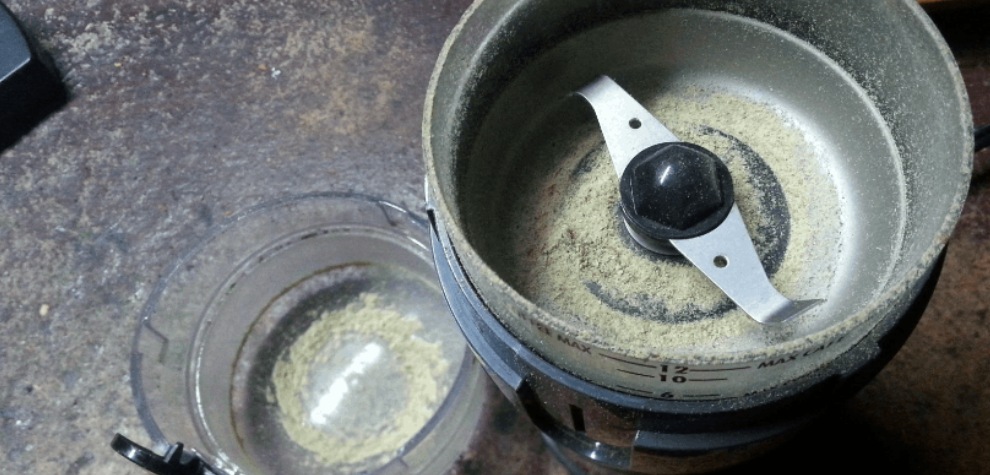 Coffee Grinder
Your coffee grinder is the best way to grind cannabis, especially if you have many flowers.
Through the different grind settings, you will get the preferred flower consistency suited to your preference.
If you want to pack more flowers into your joint or bong bowl, go for a delicate ground setting. If you want to consume less cannabis with each toking session, a coarse ground consistency will lead to more significant bits and less cannabis in a joint or bong.
Remember, you'll need to properly clean your coffee grinder before and after using it for weed grinding. Weed can leave a sticky residue that can lead to the malfunctioning of your coffee grinder later.
Load your large nugs into the grinding chamber

Close the lead and run your preferred coarseness setting

Empty the weed from the coffee grinder and load your bong bowl or joint
Pestle and Mortar Technique
Mortar and pestle are incredible tools for pounding herbs and spices into aromatic pastes and powders.
These old-school tools can also prove helpful when you want that evenly ground weed.
Mortar and pestle work best on dry flowers.
One advantage that makes these traditional tools worth a try is that they allow you to grind weed to your preferred consistency.
Place your dried flower into the mortar.

Use the pestle to apply gentle pleasure as you grind the weed against the mortar.

Repeat step two until you're okay with the consistency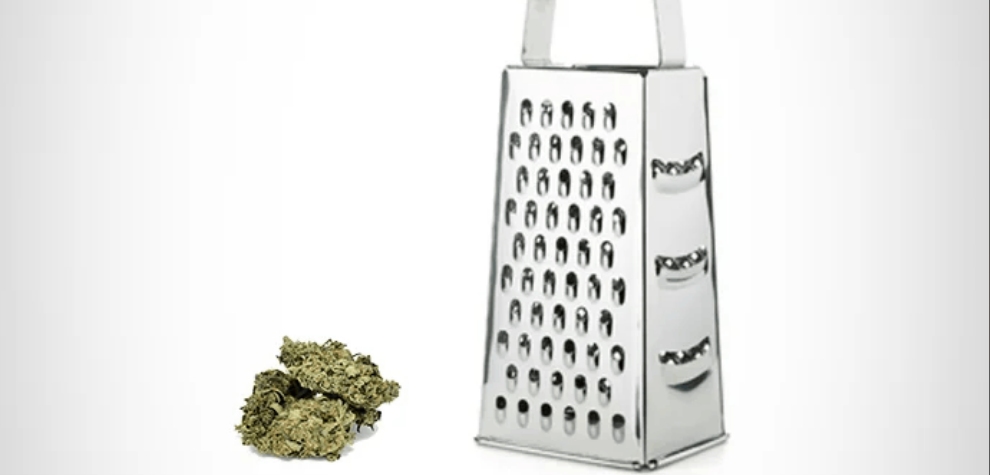 Cheese Grater Method
Though there are several cannabis graters on the market, a cheese grater can be an excellent substitute.
If your cheese grater has several size options, go for the smallest size blade available.
On a clean surface, hold each bud against the grater

Rub the buds in upward and downward motions against the grater until all the nugs are ground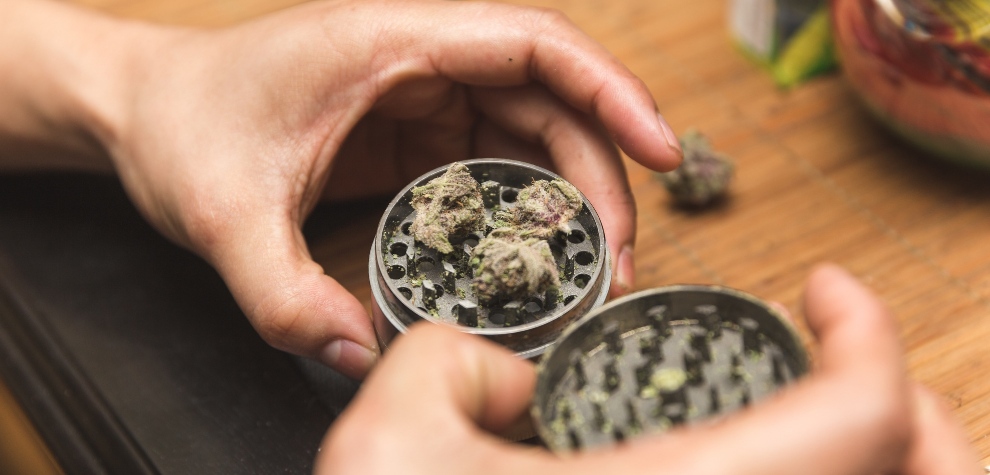 Use a Weed Grinder
A weed grinder is lovely because it allows you to collect terpene and cannabinoid-rich kief.
Most metal weed grinders in the market have a stack of separate chambers. The top chamber is for shredding your herbs, so it comes with teeth on the top and bottom.
The base of this top chamber has holes to allow the chopped nugs to fall into the second chamber for collection.
At the bottom of the second chamber, you'll find a screen that allows only acceptable pieces of cannabinoid-rich trichomes to fall through and collect as kief.
Here is a step-by-step process of the best way to grind cannabis using a weed grinder;
Stack your buds onto the top chamber of your weed grinder.

Gently press down the weed grinder's lid to secure the weed.

Repeatedly twists the top of the weed grinder until the weed is ground to your desired consistency. This might take 20 seconds to one minute.

Remove the lid to collect your chopped weed.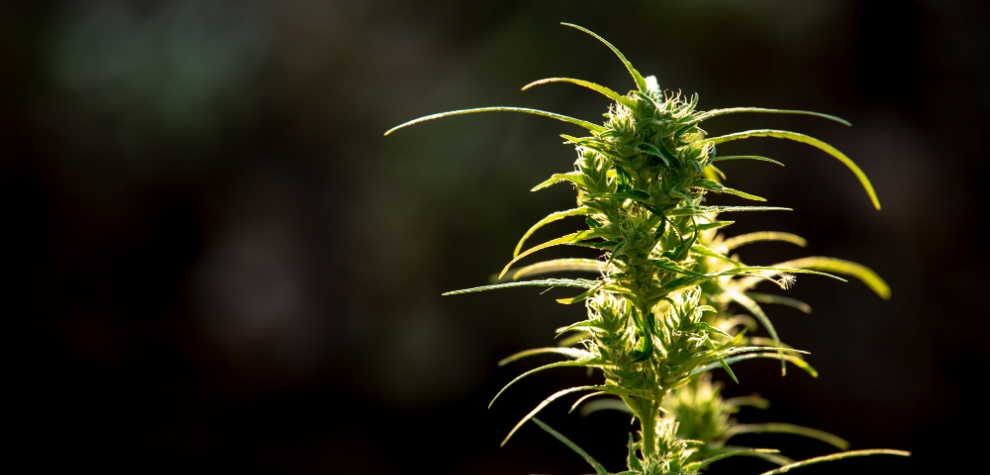 Get All Your Favorite Flowers at MMJ Express
Are you looking for the highest quality cheap weed in Canada? Then buy weed online in Canada at MMJ Express and enjoy delicious buds at the lowest prices guaranteed.
Suppose you want a candy-sweet strain sprinkled with tangy lemony notes, go for Super Lemon Haze AAA.
For those who love richly skunky strains brimming with funky diesel notes tangled with a nutty vanilla smell, try some  Funky Charms AAAA.
Buy weed online at MMJ Express and enjoy the most extensive collection of cannabis flowers.