What Is Shatter Weed, And How Does It Differ From Other Cannabis Concentrates?
What is shatter weed, and how do you use it? Shatter is one of the most recognizable cannabis concentrates in Canada today. 
However, it's also one of the most confusing. In this article, we tell you what shatter weed is, how to use it and the benefits of using this interesting cannabis concentrate.
The last two decades or so have seen the cannabis consumption landscape change as more and more people start preferring more potent products and strains. 
Interest in more potent cannabis has encouraged producers to introduce more powerful products.
One of these new products is marijuana shatter. But what is shatter weed? 
If you buy weed online, you probably have come across these sheet-like cannabis concentrates with a glassy appearance on sale. 
In this article, we tell you about the history of marijuana shatter, shatter meaning, how to use it and where to buy shatter weed online in Canada. 
But before we get to all that, what is shatter weed?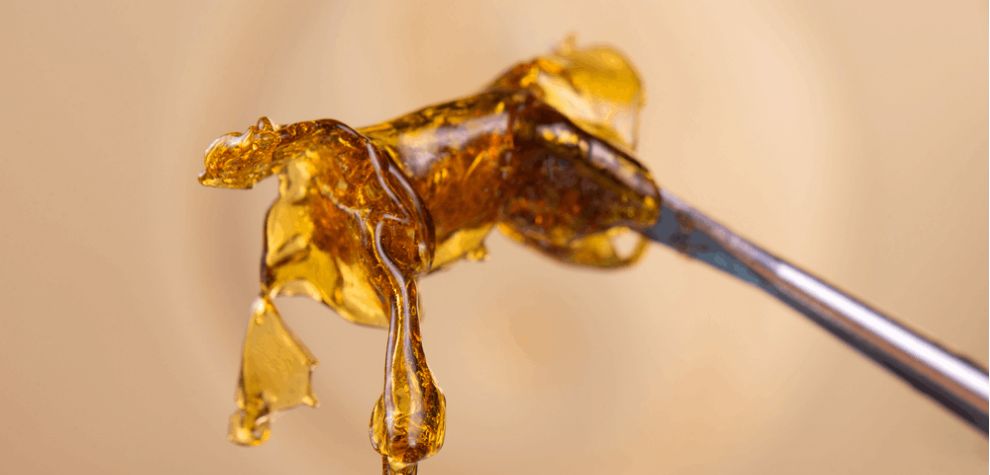 What Is Shatter Weed? Shatter Meaning
Wondering what is shatter weed? Marijuana shatter is a cannabis concentrate known for its hard, glass-like consistency that "shatters" when handled. This concentrate is typically translucent gold or amber in colour. 
Shatter weed is typically more potent than cannabis flower as its production process accumulates THC and terpene content in the final product. 
Therefore, consuming shatter produces more intense effects than just using regular flower.
There is a popular belief that this product is more potent than other extracts. This is not always true. 
Another misconception about shatter weed is that the more clear it is, the purer it is. Appearance has nothing to do with purity but the production process.
While all marijuana shatters may seem like the same consistency, the physical texture of an individual product can vary from extreme brittleness to a taffy-like pull and snap. This depends on the production process and the concentration of cannabinoids.
Shatter higher in THC will have a more pull and snap consistency as THC is a sappy oil at room temperature. 
Shatter with higher THCA concentration will have a more brittle and glass-like appearance as THCA is a solid at room temperature.
Shatter itself is a thin sheet with a glassy appearance that "shatters" when handled. This may cause some difficulty for inexperienced consumers when they try loading it into a device.
Shatter is typically consumed by dabbing, but it can also be added to a joint, bong or pipe. Now that you know what is shatter, how is it made?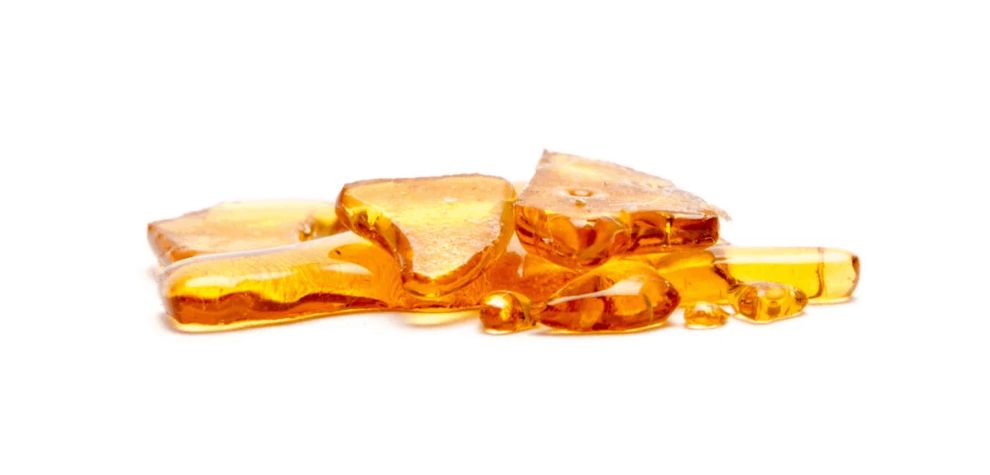 How Marijuana Shatter Is Made
Although shatter is a relatively new addition to the cannabis consumption culture, its roots stretch back to the ancient methods of hashish production. 
Marijuana shatter is a form of butane hash oil or BHO, a name given to a wide range of concentrates extracted using butane. 
Shatter, as we know it, entered the market in the late 1990s. 
This cannabis concentrate was first created by Canadian cannabis manufacturer BudderKing and was released in the late 90s alongside another popular concentrate – Budder. 
Shatter is made using almost any cannabis material, from trim to flower. Extractors use a variety of solvents and processes to create shatter. The most common is Butane hash oil extraction (BHO) which uses butane as the solvent.
CO2, which is regarded as one of the most effective and clean extraction processes, is not often used for shatter production. 
This is because CO2 extraction removes moisture from the plant material, which means the end product won't have the characteristic texture of shatter.
After extraction, ultra-low temperatures and pressure are applied to the extract to purge the solvent. This process gives shatter its brittle, glass-like consistency and appearance. Purging the solvent may take anywhere from 8 to 24 hours.
Note that the production of shatter and most cannabis concentrates involve handling toxic solvents. The processes can be extremely dangerous, so it's best left to professionals in a lab setting. Now that you know what shatter is and how it is made, how does it compare to other concentrates?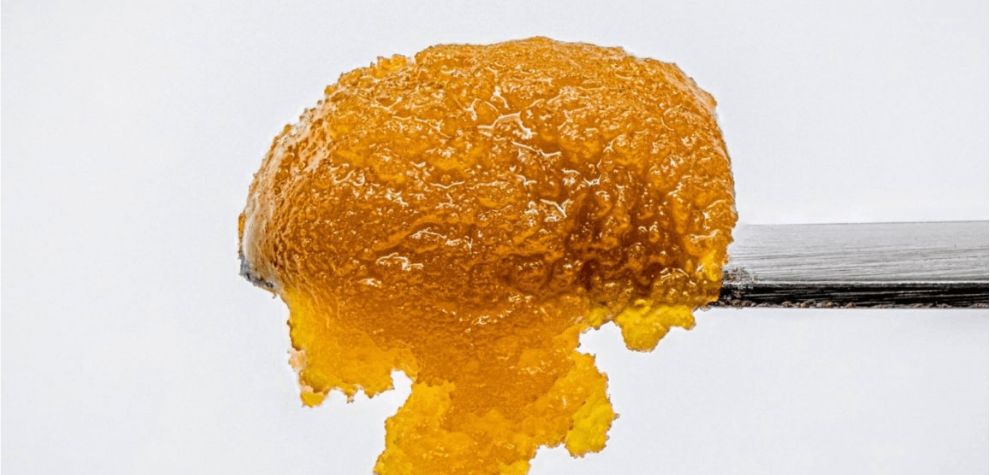 How Is Shatter Different From Other Concentrates?
When it comes to appearance, there is no mistaking marijuana shatter for any other concentrate in the market right now. It has a brittle, glass-like appearance which no other concentrate has. It also shatters when handled.
However, the process of creating shatter is similar to lots of other cannabis concentrates. The difference between shatter weed and other BHOs is how it is handled during the purging process. Shatter is not agitated during production.
Marijuana shatter production is, however, more complex and mishandling any element during production means the result may not turn out as desired. The main difference between shatter and other concentrates is appearance and consistency.
Most cannabis concentrates have a wax-like consistency. However, others, such as crumble, may have a solid consistency. The colour may be similar – gold or amber, and the THC content may also be the same. 
Shatter, like other concentrates, has a higher content of cannabinoids (THC) and terpenes than regular flower.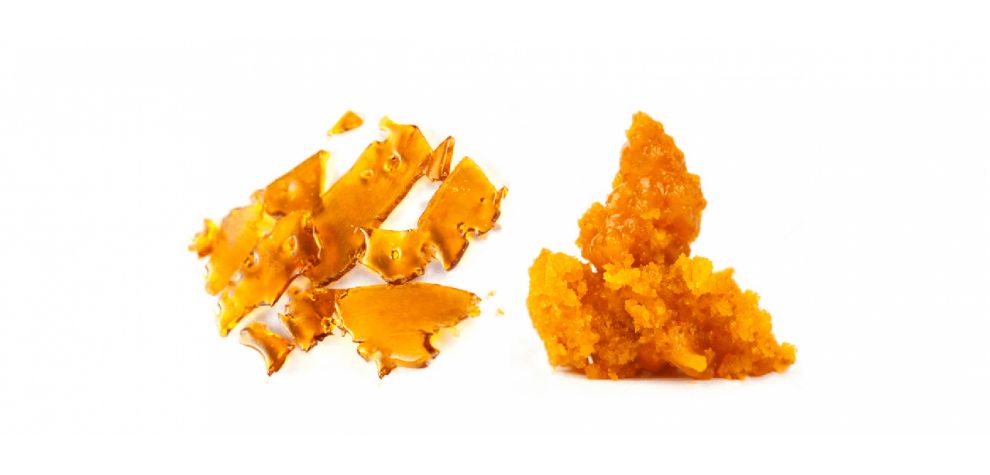 Top 4 Benefits Of Using Shatter Weed
Potency

– Marijuana shatter is one of the most potent cannabis concentrates.





Most of the shatter sold by mail-order marijuana dispensaries contains between 70 and 90% THC which is between four and six times what is found in cannabis flower.
This higher cannabinoid content may come in handy for patients that require higher THC doses to relieve pain or other conditions. 
Quick onset of effects

– Shatter is consumed through inhalation techniques which produce the fastest effects. It is also very potent, which means more THC is absorbed with each hit, causing effects more quickly.

Easy to use

– while handling the brittle consistency of shatter may take a little getting used to, it becomes like second nature once you get the hang of it. You can also use it in various ways, including smoking and dabbing shatter.

Affordable

– Online dispensaries such as MMJ Express offer high-quality marijuana shatter at the lowest prices guaranteed. Since you don't need to use much, one purchase can last you longer than flower.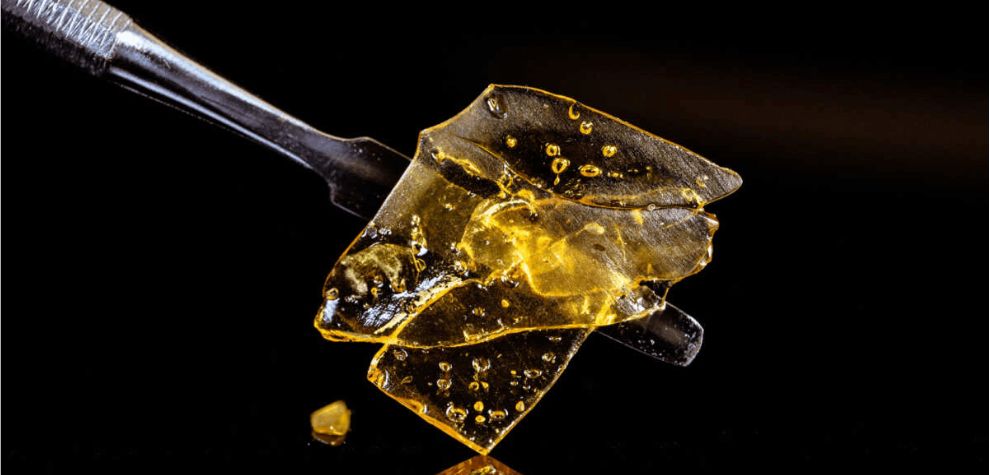 How To Use Shatter Effectively
Dab shatter
Dabbing shatter is one of the most popular ways of consuming cannabis shatter. This involves using a specialized water pipe that looks like a bong, called a dab rig. 
To dab shatter, set up your dab rig by connecting all the removable parts and adding water to the chamber.
Heat the nail to the required temperature, then using a dab tool, take a piece of marijuana shatter and place it on the nail and inhale. 
High-quality shatter vaporizes immediately and doesn't leave any residue. You can also consume shatter without a rig.
Use a vape pen
Some vape pens are designed to be used with solid concentrates. If you have such a vaporizer, all you have to do is put a piece of shatter into the concentrate compartment, set the temperature and enjoy vaporizing your shatter!
Smoke it!
You can smoke marijuana shatter by adding it to a joint, blunt or bong. If you are using a bong, add a layer of ground cannabis first, add a piece of shatter then another layer of flower at the top. The heat from the burning flower will vaporize the shatter, providing a better experience.
If you are using a joint or blunt, spread some shatter on top of the flower before rolling. For the best experience, we recommend putting the shatter slightly away from the ends so it is vaporized using heat, not burned. 
Now that you know what shatter is, what are the best products to buy from an online dispensary in Canada?
2 Best Marijuana Shatter Products To Buy Online In Canada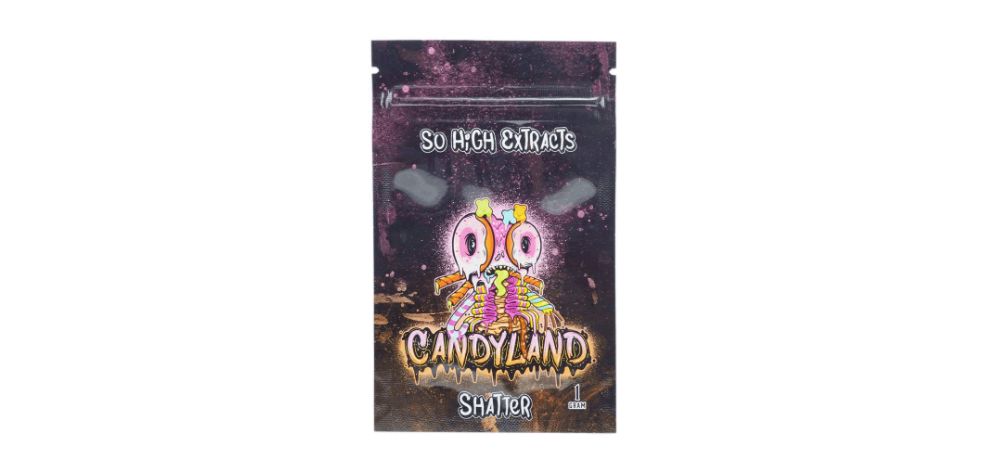 1. So High Extracts Premium Candyland Shatter
This So High Candyland shatter is one of the best in the market and is available cheaply at MMJ Express, the best mail-order marijuana dispensary to buy weed online from in Canada.
Candyland is a sativa strain created through a cross between the infamous Granddaddy Purple and Bay Platinum Cookies. The result is a potent strain with a strong sweet flavour and smell, characteristics well captured in this shatter.
Buy this So High Premium Candyland Shatter at MMJ Express and enjoy the ultimate Candyland experience for cheap!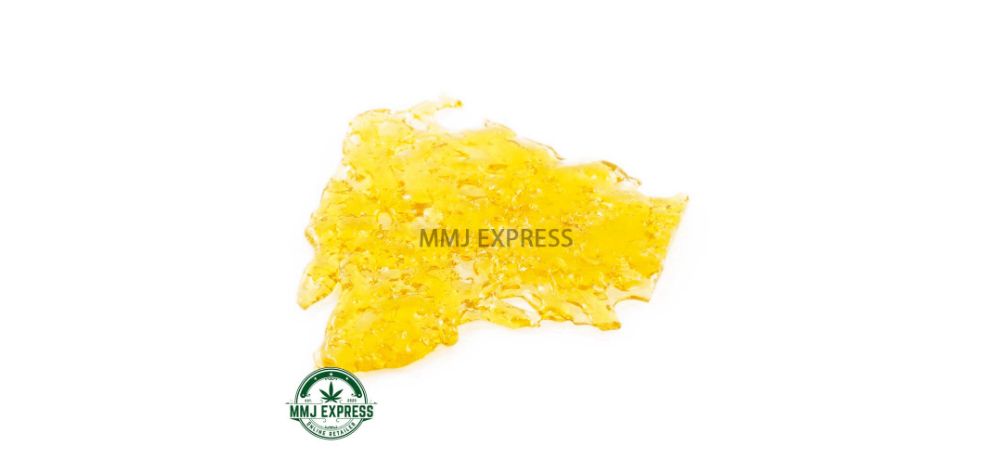 2. Dank Sinatra Premium Shatter
Dank Sinatra is an indica-dominant hybrid created through a cross between Hashplant and LA Affie strains and named after the one and only Frank Sinatra. 
This strain, however, won't have you singing and dancing for very long as it is known for inducing sleep.
This shatter is created using high-quality Dank Sinatra buds. It is perfect for evenings and relaxing. 
Buy this Dank Sinatra shatter at MMJ Express and enjoy the lowest prices and Canada-wide shipping. Buy weed online today!
Where To Buy Shatter Weed Online In Canada
What is shatter weed? Marijuana shatter is a cannabis concentrate with a brittle glass-like consistency that shatters when handled. It is a BHO concentrate and contains high amounts of THC and terpenes. It is typically gold or amber in colour.
Now that you have the answer to "What is shatter weed?" Buy weed online, including marijuana shatter, from MMJ Express, Canada's leading mail-order dispensary and enjoy premium products at the lowest prices guaranteed!