How To Find The Perfect Weed Vape Pens In Canada 
Are you shopping for a weed vape pen in Canada? 
Vaping is now the most popular medical cannabis delivery mode in Canada, and THC vape pens are some of the most common forms of vaporizers in the country. But what are weed vape pens, and how do you use them?
For most of the cannabis-human relationship, the plant has been consumed through the most straightforward and accessible way – smoking. 
But as we began understanding the plant more, we found ways to infuse it into foods through weed edibles and ultimately figured out how to make cannabis concentrates.
Consumers are moving to better ways of consuming cannabis without combustion. The journey to the current weed vape pen in Canada started in 1927 when Joseph Robinson applied for a patent for an electronic vaporizer for plant compounds.
The invention underwent several iterations throughout the 20th century. The breakthrough came in the early 2000s when Storz and Bickel released the first Volcano Vaporizer – a "desktop" vaporizer device for dry herbs. 
Three years later, Hon Lik, a Chinese pharmacist, invented the modern e-cigarette, which was adapted into the current weed vape pen.
But what is a THC pen in Canada? This article tells you all you need to know about weed vape pens in Canada, including where to buy them. Read on!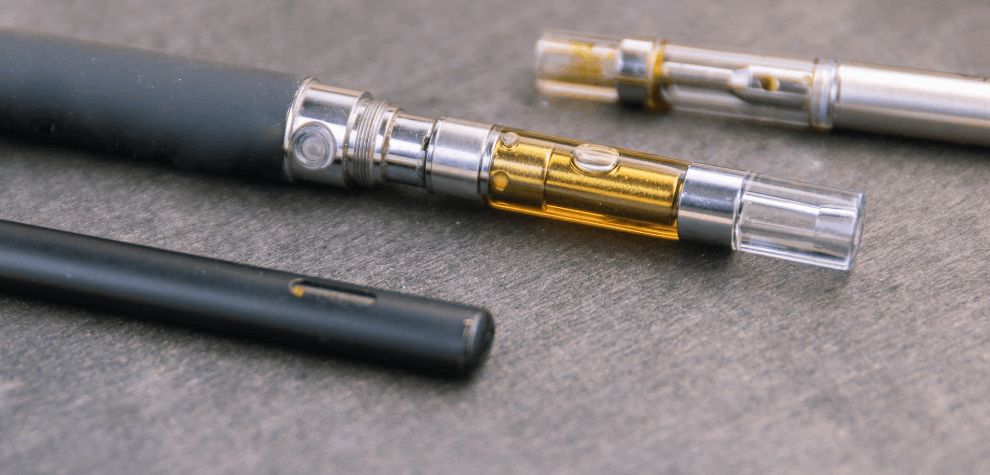 What Is A Weed Vape Pen In Canada?
If you are looking for a weed vape pen in Canada, you will come across different designs of THC pens in varying shapes and sizes. 
These vape devices are everywhere, from local brick-and-mortar stores to online mail-order marijuana stores, but what is a weed vape pen in Canada?
A weed vape pen, also commonly referred to as a THC pen or a weed pen, is a handheld device that vaporizes cannabis concentrate (oil or distillate) into a fine mist (vapour) inhaled into the lungs. 
The device is typically cylindrical and fits into the pocket like a pen.
The vapour contains various cannabis compounds, including cannabinoids such as THC and CBD, known for their health and wellness benefits. Other compounds include terpenes which may also provide health benefits in addition to providing the classic weed aroma and flavour.
Weed vape pens in Canada come in two primary categories, rechargeable (non-disposable) and disposable THC pens. 
A non-disposable vape pen is a device whose battery can be reused continually by changing or refilling the cartridge.
On the other hand, a disposable weed pen is an all-in-one unit with a battery, pre-filled tank and atomizer. 
This type of weed pen is designed to be used and disposed of once the contents are depleted. It cannot be refilled or recharged.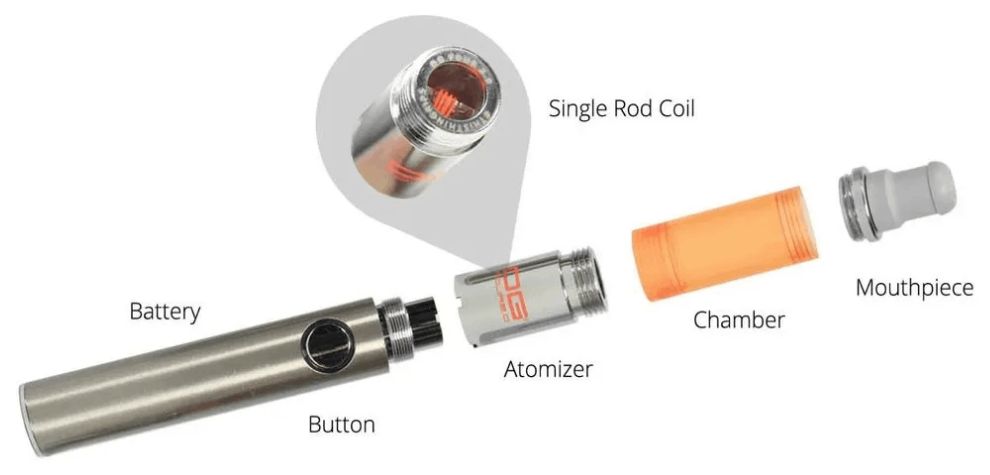 Parts Of A THC Pen & How They Work
A THC pen in Canada has four main parts. The battery, cartridge/tank, atomizer and mouthpiece. So what are these parts, and what do they do?
Battery

– The battery is what powers the vape pen. Once activated, the battery provides electric power to the atomizer, which heats up the concentrate, producing the vapour you inhale.
Most weed vape pens in Canada have a lithium-ion battery. If you use a disposable THC pen in Canada, the battery cannot be recharged. Reusable vape pens come with a rechargeable battery and a charger.
Tank or Cartridge

– A THC cart is the glass, plastic or steel reservoir that holds the cannabis oil or distillate. There are two types of carts, refillable/reusable and non-refillable/disposable.
Disposable carts are designed to be discarded when empty, while reusable ones can be refilled and reused. Most cartridges are easily screwed onto the battery using 510 threading.
Atomizer

– This is the heating element or part that heats up and vaporizes the cannabis oil. Weed vape pens in Canada have various atomizers, including cotton wicked, ceramic and quartz atomizers.

Mouthpiece

– This is the part that you place your mouth around and inhale the vapour from the THC pen. THC vape pens in Canada can have removable or non-removable mouthpieces.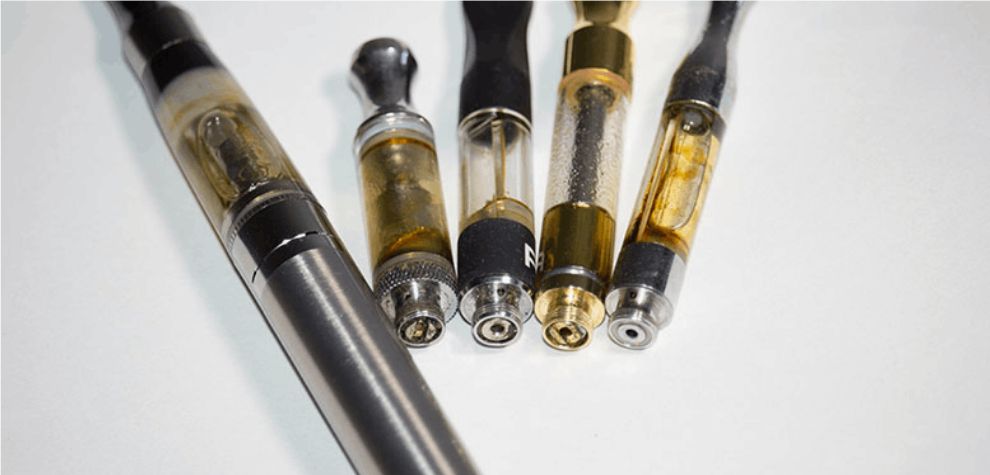 What Do THC Pens In Canada Contain?
What goes in a vape pen's cartridge? Most weed vape pens in Canada contain THC distillate or weed oil. THC distillate is a cannabis concentrate created through the distillation process. Distillates are usually pure, potent cannabis substances.
THC distillates only contain one cannabinoid – THC and may be up to 99% pure. To make a THC distillate, the cannabis oil is typically stripped of all terpenes, flavonoids and other cannabinoids, leaving almost pure tetrahydrocannabinol.
Terpenes may be reintroduced after the process to reintroduce flavours, boost the experience and add additional benefits through the entourage effect. 
Vape cartridges may also contain full-spectrum or broad-spectrum THC vape juice. These types of vape liquids contain more than one cannabinoid and terpenes, and other cannabis plant compounds. 
Some vape pens are designed to vaporize other forms of cannabis concentrates such as shatter, wax, and crumble, while others come with a compartment for vaporizing dry cannabis flower. 
Vaporizer pens designed for dry flower are known as dry herb vaporizer pens.
If you have a refillable weed vape pen, ensure the oil you use is made to be used for vaping. 
Also, avoid THC vape juices that contain cutting agents such as PG, PEG and VG, as they may hurt the lungs.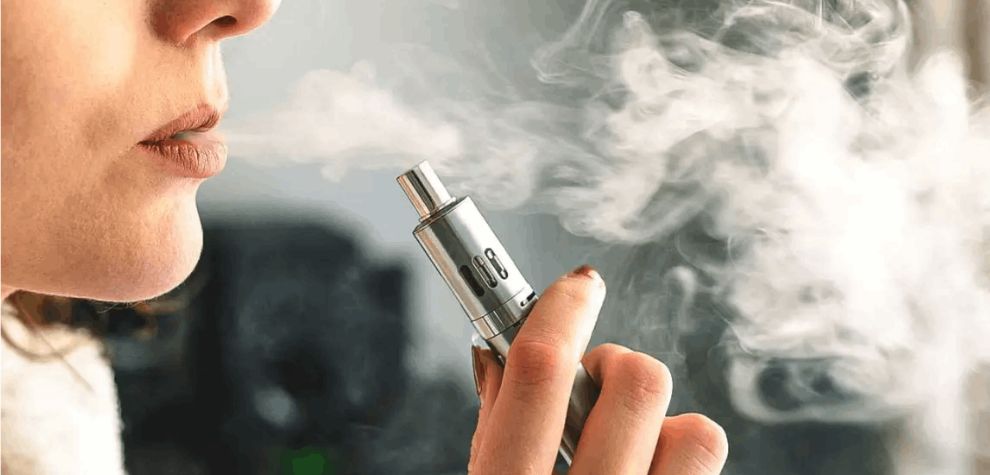 Benefits of Using THC Pens In Canada
They're convenient

– Vape pens are small and can fit comfortably in your pocket. If you have a reusable pen, you can also carry multiple cartridges easily. 
As long as the battery is charged, you can use weed vape pens anywhere that permits cannabis use and at any time.
Easier dosing

– Vape pens contain a precise amount of oil and dose of THC. As such, it is much easier to dose than cannabis flower or weed edibles. 
THC vape pens in Canada come in a variety of strengths which give you control over how much THC is in your weed pen.
They can produce a better experience than smoking

– Weed pens produce vapour which is cleaner than smoke from cannabis combustion. There is also no ash or sticky resin to clean up after a session.

Can be customized

– You can buy different flavours and profiles of vape cartridges from an online weed dispensary. In addition, some weed pens allow you control over the vaping temperatures, allowing you to enjoy more delicate terpenes. 

They may be safer than smoking

– Combusting cannabis flower produces hundreds of toxins that may harm your health. Since vape pens don't burn flower, they don't expose the consumer to those toxins. 
A 2010 study found that one month of vaporizing weed instead of smoking improved the lung health of daily cannabis smokers with existing lung conditions. 
More research is required to confirm these results.
How To Use THC Vape Pens
After buying a weed vape pen in Canada, how do you use it? If you have a reusable vape pen that comes in parts, the first step is to connect the battery to a compatible weed cartridge – they are typically 510-threaded.
Ensure the vape device is charged and ready to use. There are two types of weed vape pens. Button activated and draw activated. 
Draw activated weed pens

– These don't require turning them on or off. You only need to inhale through the mouthpiece, and the battery will activate, and the coil will heat the oil to produce vapour.

Button-activated THC pens

– These have a button that is pressed to turn them on before use. Some vape pens will have a pre-heat function, and some pens allow you to set the voltage output. Read the instructions carefully to understand how to use your specific vape pen.
Best THC Pens In Canada 2023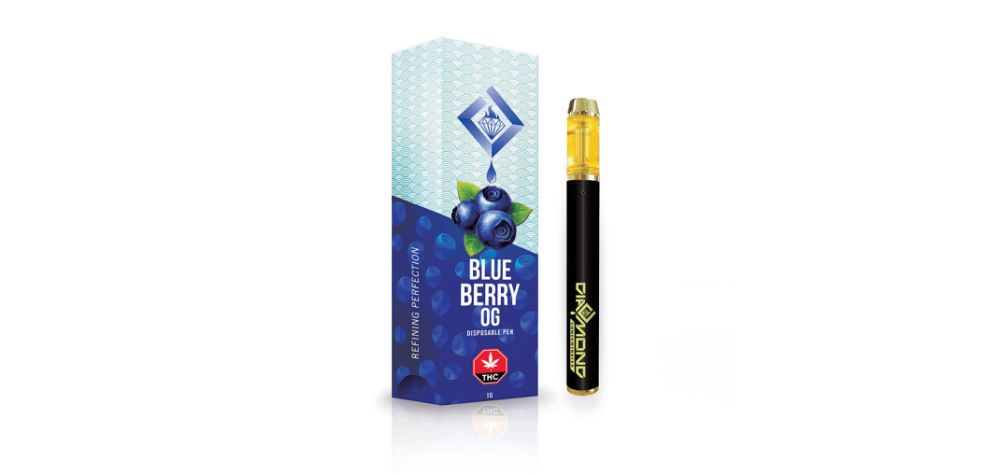 1. Diamond Concentrates Blueberry OG Disposable Weed Vape Pen 
Are you looking to buy the best THC pen in Canada? This Blueberry OG Disposable Pen from Diamond Concentrates ticks all the boxes and will quickly become your favourite vape pen.
This 1g THC pen comes ready to use out of the box. It contains 1g of the best Canadian distillate with an organic base. It has no VG or PG and is solvent free. 
Buy this disposable pen from MMJ Express, Canada's top online weed dispensary!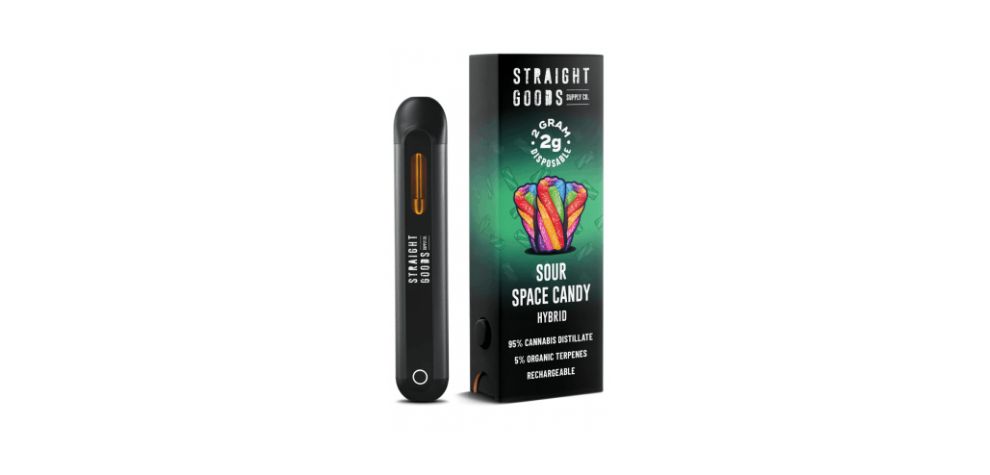 2. Straight Goods Sour Space Candy Disposable Pen
Looking for a more potent vape pen? Get this Sour Candy disposable pen from Straight Goods. It contains 2ml of premium THC distillate with cannabis-derived terpenes and 2000mg of THC.
This Sour Space Candy disposable pen is 95% cannabis distillate and 5% organic terpenes. 
It is also rechargeable to ensure you get the most out of your cannabis distillate. The vapour has a sweet, fruity, earthy and piney flavour.
Buy this Straight Goods Sour Space Candy THC pen online from MMJ Express, Canada's leading mail-order marijuana dispensary.
Buy weed online today and enjoy high-quality vapes at the lowest prices guaranteed!
Where To Buy Weed Vape Pens In Canada
MMJ Express is the leading mail-order marijuana in Canada. We're known for stocking high-quality cannabis products, including cheap canna, value buds, premium flower, weed edibles, cannabis concentrates and the best weed vape pens in Canada. 
If you are looking for the best THC pens in Canada, buy weed online from us and get the lowest prices in the market, high-quality products, free Canada-wide shipping for orders above $150 and incredible discounts. 
Buy weed online today, and we will deliver to your doorstep anywhere in the country.