How To Buy BC Weed Online From Our Online Dispensary
People throughout Canada buy BC weed online from top mail-order marijuana companies such as MMJ Express. But why is BC weed so popular? 
This article provides information on the top weed strains to buy in BC and why they are popular among cannabis connoisseurs.
British Columbia has been known as a cannabis cultivation heaven for decades. 
Even when weed was illegal in Canada, its recreational cultivation and use were well tolerated in the province compared to the rest of the country.
The abundance of water, sunshine and inexpensive power made the province an ideal cannabis growing area. 
Before weed was legalized in 2018, the many hills and forests in the region also made it a more attractive weed-growing area as they aided stealth outdoor growing operations.
Today, BC bud strains are among the most sought-after worldwide due to the rich environment they grow in and the province's long history/experience with the product. 
The region is home to legendary strains like BC God Bud, Jean Guy, Ghost Train Haze and many more.
In this article, we tell you why BC weed is so popular around the world and where to buy BC weed online. Read on!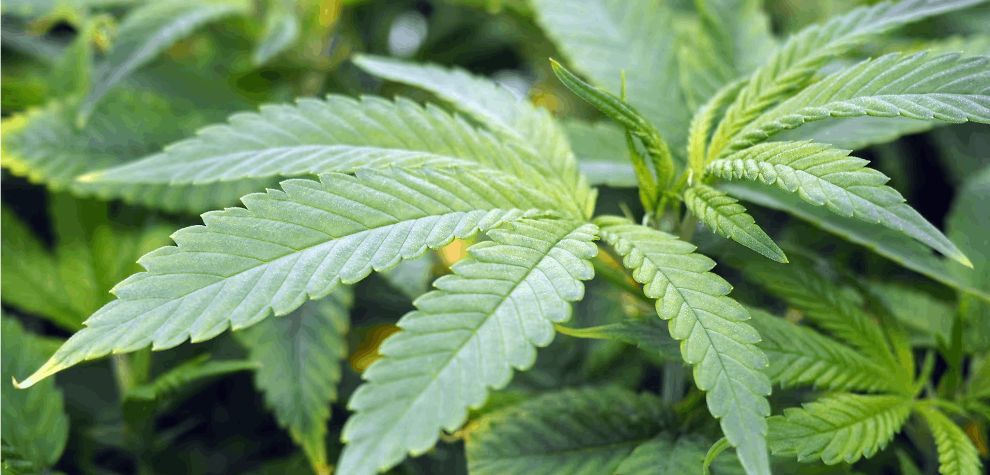 Why Is BC Weed So Popular?
British Columbia and the broader Pacific Northwest have been very popular with weed growers for decades. This area has also originated hundreds, if not thousands, of world-famous strains that thrive nowhere else.
If you buy BC weed online, you may wonder what makes it so popular. 
There is a happy confluence of factors that contribute to the appeal of BC weed, from the favourable climate to the average grower's sophistication. 
Here are some reasons why BC is home to some of the top weed strains in Canada and worldwide.
Favourable climate

– British Columbia has just the right climate to produce high-quality weed. It has the right amount of rainfall and sunshine needed for outdoor growing.





The long spring and summer growing seasons in the province support the flourishing of cannabis plants, resulting in high-quality, high-grade nugs.





The climate varies across the province, so growers can cultivate strains requiring varying growing conditions.

Fertile lands and favourable environment –

The cannabis plant is especially sensitive to the minerals found in the soil. You will automatically get poor crops if you grow weed in an area with poor soils. What you put in is what you get out.
BC has very fertile growing lands, vast natural resources and favourable microclimates that support the flourishing of weed.
Experienced growers

– Cannabis growers in British Columbia have decades of experience cultivating weed even

before it was legalized in Canada

.





As mentioned, the province was more cannabis-friendly, and the mountainous and forested terrain allowed for stealth growth operations.
Decades of cultivation and experimentation have fostered skilled growers in the province, which has led to it producing some of the best quality weed in Canada.
Now that you know why BC weed is popular in Canada, what are the best BC strains to buy online?
Best BC Weed Strains To Buy Online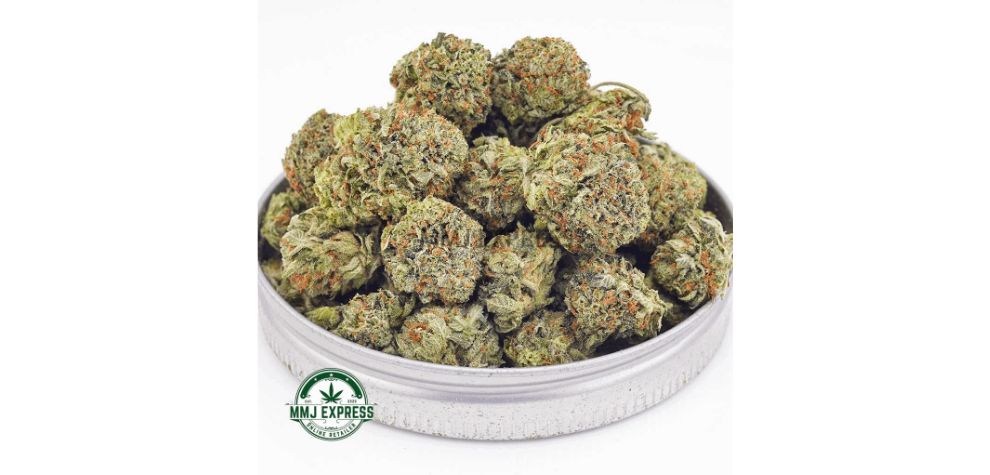 1. Pink Kush 
Pink Kush is a hugely popular underground strain on Canada's West Coast. This strain that has roots in BC is known to be a relative and possibly an offspring of the legendary OG Kush, one of the most popular strains in history.
Pink Kush's heritage is a little uncertain, but its association with OG Kush makes it one of the most sought-after buds. It is a mostly indica strain, and while it is not verified yet, it may be as low as a 90:10 indica to sativa ratio.
This strain's THC levels top 20%, which makes it an averagely potent bud. CBD levels are much lower, rarely topping 1%. Pink Kush gets its name from the pink pistils that protrude from the strain's green nugs. The flavour and aroma have notes of pine, flowers and wood.
Like the typical indica, this strain delivers a potent body high that calms pain and aches and relaxes as it spreads through the body. Looking to buy this BC weed online? Buy these AAAA-grade Pink Kush popcorn nugs online at MMJ Express today!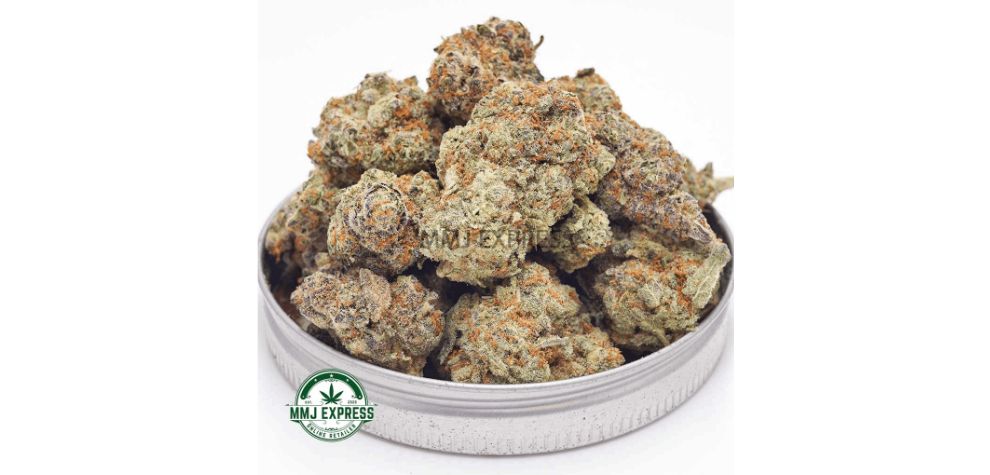 2. GMO Cookies
GMO Cookies is one of the most common strains you will come across when buying BC weed online. GMO Cookies, also known as Garlic Cookies, is a heavy indica dominant hybrid with a 90:10 indica to sativa ratio.
This strain is known for its super pungent aroma, which many enthusiasts describe as odd yet alluring. It has a potent garlicky aroma, although you may also pick up nutty scents and hints of spicy rotting coffee. 
On the inhale, the bud has a delicious garlic flavour and a spicy exhale that lingers in your mouth.
GMO Cookies has a high average THC level, testing at between 20% to 24% THC. This may explain Cookies' insanely potent effects. 
Toking on this bud will make you feel a stoney happiness with your mind high in the sky before fading into a deep, peaceful sleep.
This potent strain is a result of a cross between the ultra-popular Girl Scout Cookies and Chemdawg. Buy GMO Cookies online from the top BC weed online dispensary in Canada, MMJ Express.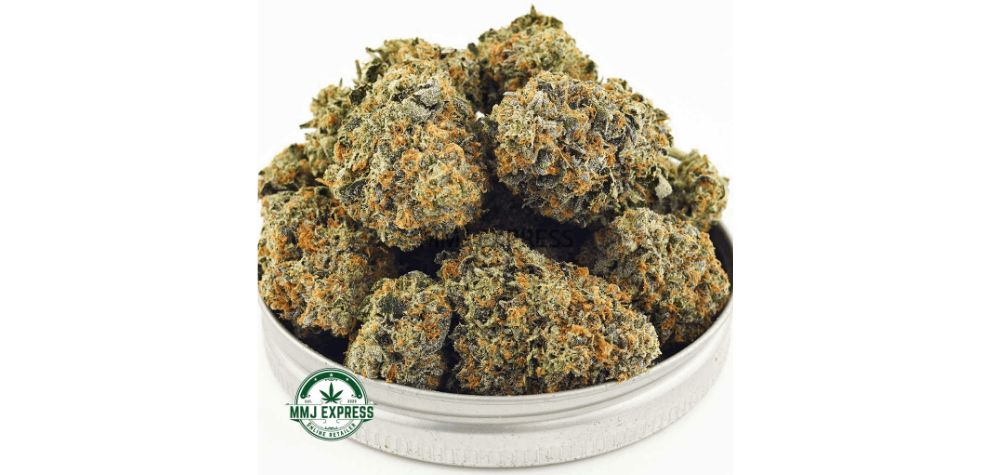 3. Death Bubba
Death Bubba, also known as D Bubba, is one of the most popular strains that originated in BC, Canada. Death Bubba is a 70:30 indica dominant hybrid strain created by breeders at Sea to Sky Cannabis in Vancouver, BC. 
Death Bubba is a cross between Death Star and the legendary Bubba Kush. 
This strain possesses insanely high THC levels, ranging between 25% and 27%, making it one of the most potent cannabis strains on the market today.
This strain's effects start with an energy of focused energy that leaves you uplifted and motivated, but as it progresses, the strain pulls you into a deep, almost death-like sleep that lasts for hours. Looking to buy this BC weed online? Death Bubba is available at Canada's top pot store, MMJ Express.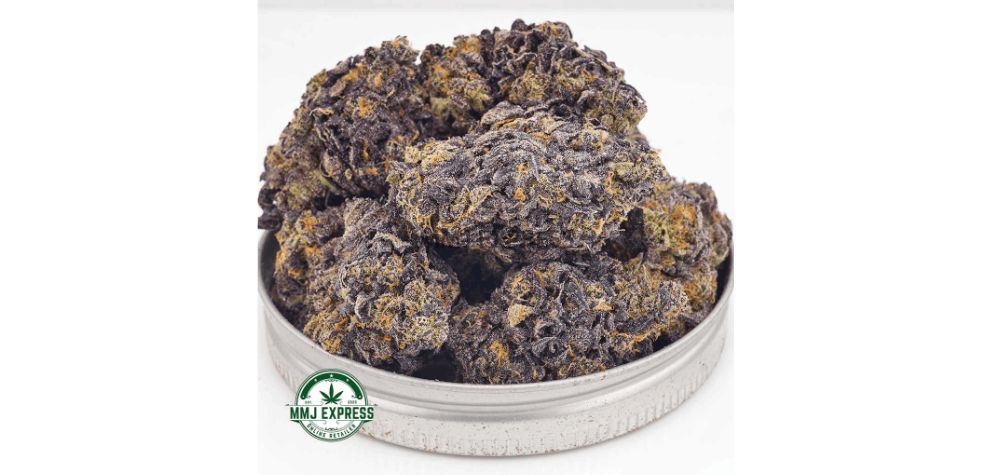 4. Gorilla Glue
Gorilla Glue is a popular strain among enthusiasts who buy BC weed online. This strain is an indica dominant hybrid with a 60:40 indica-to-sativa ratio, which makes it a relatively well-balanced bud.
Gorilla Glue packs a powerful punch courtesy of its insane THC levels. This strain's average THC level ranges between 25% and 28%. Like a typical balanced strain, Gorilla Glue enables you to enjoy the best of both sides.
The effects start with a cerebral rush that leaves you in a state of unfocused happiness. 
As the head high builds, a deep body buzz spreads through your body, relaxing every part and before you know it, you are feeling heavy and immovable.
Gorilla Glue is also known to put even experienced consumers into a deep sleep that lasts for hours. Wondering where to buy this potent BC bud Online? 
Get Gorilla Glue online at MMJ Express, Canada's top weed store known for cheap canna and value buds.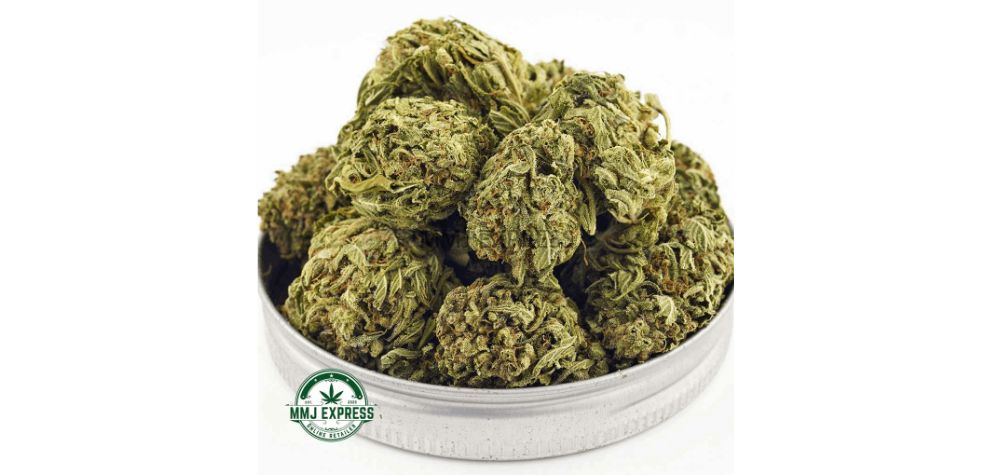 5. Trainwreck
Trainwreck is one of the most popular sativa-dominant strains you will cross paths with when buying BC weed online. It is a cross between two sativas – Mexican and Thai, and one indica – Afghani. The result is a mindblowing strain with effects that hit you like a train.
Trainwreck's THC levels range from a moderate 18% and go up to an insanely potent 25%. This strain's effects are energizing and uplifting, making it one of the best strains for daytime use. You can also expect a mellowing body high that will leave you relaxed.
This high-quality Trainwreck strain is now available at MMJ Express, the top online weed dispensary known for premium but cheap weed in Canada. Buy weed online today!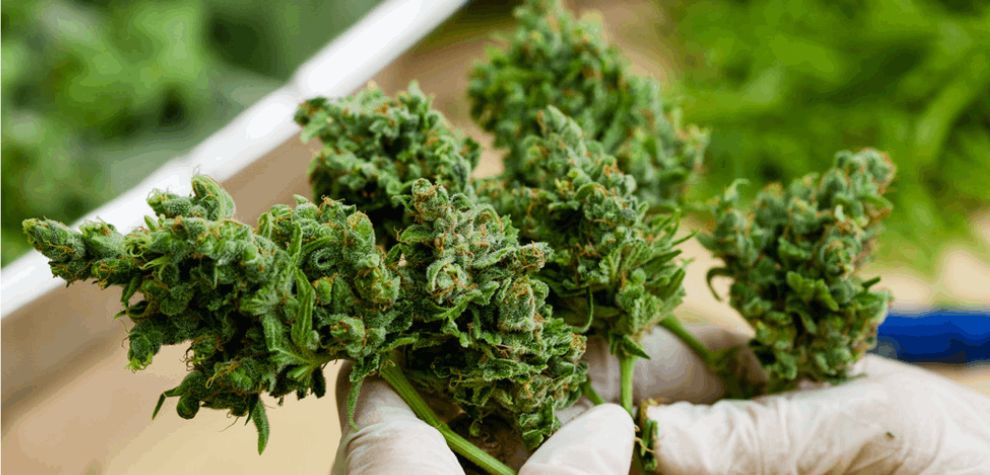 How To Buy BC Weed Online From Anywhere In Canada
How do you buy BC weed online from anywhere in Canada? Wondering how you can enjoy high-quality cannabis from British Columbia? Here is how you can get premium-quality weed delivered to your doorstep anywhere in Canada.
All you have to do is check out MMJ Express' expansive cannabis catalogue online using your computer or smartphone. 
Select the weed product you want, select the amount, and add it to your cart. Proceed to checkout, where you will be required to enter shipping details, pay and leave the rest to us.
All orders before 1 pm are shipped on the same business day, and orders received after 1 pm PST ship the next business day. 
Our online dispensary ships to all parts of Canada and offers free shipping for products worth $150.
Where To Buy BC Weed Online In Canada
Are you looking to buy BC weed online in Canada? MMJ Express is Canada's top online cannabis dispensary known for high-quality cannabis products sold at the lowest prices guaranteed! 
At MMJ Express, we have all types of weed products, from flower, cannabis edibles, vapes, to cannabis concentrates.
Buy BC weed online from MMJ Express and enjoy premium products at affordable prices, incredible discounts, offers and free Canada-wide shipping for all orders above $150!