Buy The Tastiest Weed Edibles At Our Weed Dispensary
If you're looking for tasty and potent weed edibles to enjoy and get high on, our list of the top five products to buy online in Canada is your go-to guide. 
Brownies and cookies dominated the THC edible realm ever since Mary Jane Rathbun delivered them to patients in San Francisco General Hospital. But since then, the cannabis edibles market has exponentially grown.

Since then, weed edibles have expanded well beyond the initial cookie conception. 
These days, almost everything sweet is being infused with THC using isolates, oils and distillate.  
If it doesn't make your mouth water, it wouldn't be on this list. If it isn't potent enough, it wouldn't be on this list. 
We were looking for the most delicious, most powerful edible THC products that you can buy online in Canada – and we've found some great contenders. 
You won't see any edibles on this list that don't fulfill the ultimate criteria of taste and potency. 
So, without further ado, please indulge in any of the following weed edibles from our outstanding online dispensary.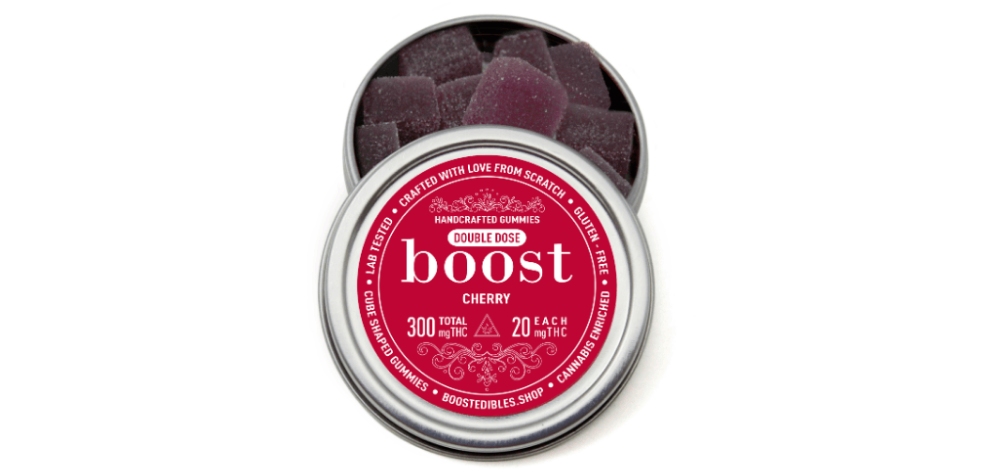 Cherry Gummies 150 MG/300MG THC from Boost Weed Edibles 
Famous for being a Canadian edible classic, these delightful and tasty edible weed gummies are guaranteed to take you and your taste buds on an exciting trip. 
Juicy, tasty, and made with loads of love – each gummy is created to produce a consistent dosage of THC with a natural tasting experience.

With a choice between the 150 MG and the 300 MG edible weed gummies, each one is made using pure high-quality hybrid THC distillate. 
Where each tin comes pre-packed with 15 delicious edible weed gummies, these cherry-flavoured canna edibles are made for your convenience and enjoyment.
You can get your pack of Boost Weed Edibles Cherry Gummies for only $30 from our awesome online dispensary now. 
You are also at liberty to choose from a range of other flavours,  including Strawberry,  Sour Green Apple, and Sour Watermelon. 
Take a trip somewhere beyond the rainbow with these wonderful, colourful, THC-filled edible weed gummies!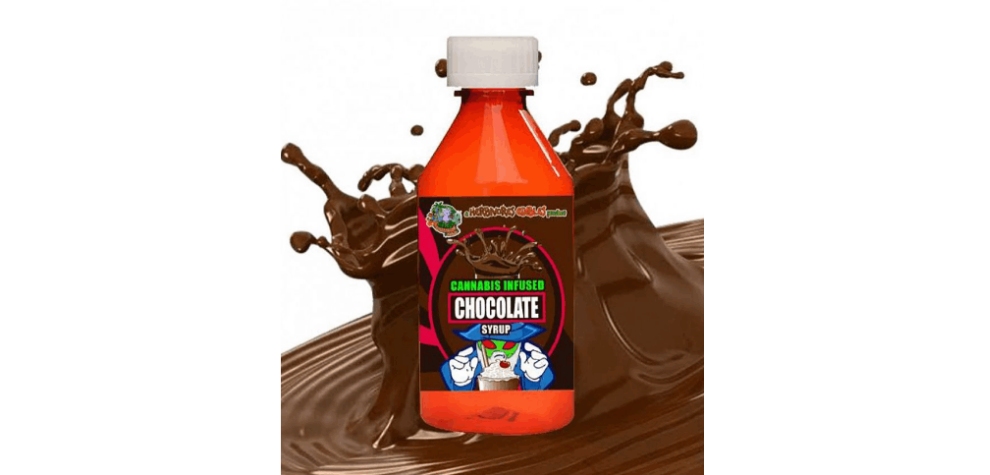 Chocolate Syrup 100ml 300mg THC From Herbivore Weed Edibles
For anyone looking for the powerful effects of cannabis in a sweet and edible medium, we offer a variety of potent, mouth-watering cannabis syrups. 
At the top of our list of favourites is the Chocolate flavour syrup, packed with 300 milligrams of pure THC – available through our online weed dispensary.
Feel free to go mad and add this delectable syrup on everything from ice cream and pancakes to hot chocolate beverages.
For those seeking a sweet and delicious way to experience the effects of edible weed, cannabis syrup may offer the ideal convenient and effective solution.
If you enjoy the effects of marijuana but don't always like the taste, this syrup can satisfy your desires. 
A wonderful alternative solution for those who need or want to avoid smoking products, this edible weed Chocolate syrup is as good as the high that you get from licking it.
If you're looking for an alternative and effective way to consume cannabis,  THC syrup may be the perfect product. 
Providing the same benefits as the other weed edibles listed in this article, THC syrup is a great way to get high and feel the wonderful effects of edible cannabinoids.

Interestingly enough, edible THC syrup is also faster-acting than most other weed edibles.
This means the effects are likely to hit you slightly faster. In this regard, most users allow the effects to be felt after 20 minutes or so. If you want another spoon after the first one, go for it!

If you're not that into chocolate, you can always try other flavours in the same range. 
Other edible weed syrup flavours in this range include magical Maple Syrup, heavenly Honey, and sultry Strawberry. 
Go ahead and make your pick from these extraordinary edible THC syrups now from our outstanding weed dispensary.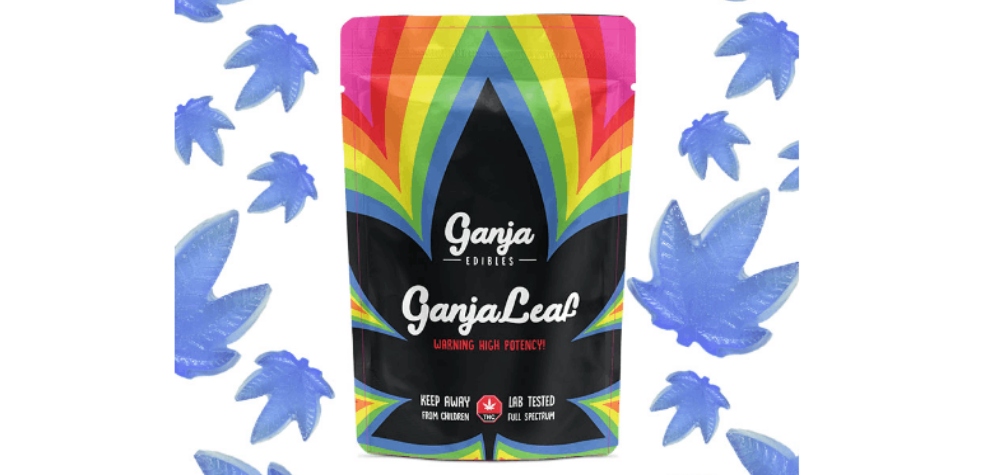 Ganja Leaf Blue Raspberry 1250 MG THC From Ganja Edibles 
Beware, these potent weed edibles are not for the faint-hearted! 
But if you want to try edible weed with a real kick – you need not look any further than the great Ganja Leaf! 
This hand-crafted, artisanal, THC-infused edible is possibly the best-tasting and strongest medical edible on the planet.
Each of these blue raspberry-flavoured gummies is infused with 1250MG of pure food-grade THC cannabis oil. 
For those with a high tolerance to edible weed, this product might be the perfect new addition to the jar of sweets at home. 
Providing a more balanced euphoric experience without any hangovers, the Ganja Leaf hardly ever disappoints.

Produced and licensed in a licensed facility, it's recommended to store your Ganja Leaf weed edibles at room temperature for up to 3 months or you can keep it refrigerated for up to 1 year. 
But who would want to wait that long to finish this fine edible weed treat? With delectable blue raspberry flavours, this product is truly irresistible.
Get some edible cannabinoids in your system with this sweet treat. 
Take your taste buds on a ride and have your body and soul have a magic carpet ride with these Ganja Leafs. 
You can order your 1250 mg Ganja Leaf from our online pot store today – and trust us – you won't regret it!

Chocolate Bars (Various flavours) 500MG THC from Chocolit
With 500 MG of THC per bar, you're going to love these edible weed chocolate treats from Chocolit all the way to the moon and back. 
When blending cannabis and chocolate, Chocolit sets the bar high. If you've ever dreamt of cannabis in a chocolate form, you've arrived at your destination.
Combining true strength and lab-tested cannabis with the finest chocolate, this tantalizing weed edibles chocolate bar is available in four classic flavours that are sure to satisfy your cravings. 
Besides the Classic Milk flavour, you can choose from the Cookies and Cream and Birthday Cake Bars with the same THC level.

Based on your personal tolerance, these chocolate bar weed edibles take a minimum of 1 hour to activate in your system. 
We suggest starting with 10mg and waiting up to two hours to feel the full effects. You can always increase the dosage as desired. 
As a side note; if you want to keep this edible THC product fresh for as long as possible, be sure to consume it within nine months. 
For the best shelf-life, keep these chocolate weed edibles with THC in them in a cool, dark, dry place. Happy chocolate dosing!
Swift Rolls 150MG THC from Herbivore Edibles
This delicious chocolate cake cream-filled roll is ideal for those looking for a lighter kind of high when using weed edibles. 
Made with THC Distillate, you get all of the benefits of THC without sacrificing the taste that you know and love. Go ahead and unleash your inner child with these amazing canna edibles.

Enjoy this sweet treat in the morning to make an adventure of your day. If this is your first time using this product, it's recommended to start with half a bar. 
In the nicely packaged box, you will find two delicious Swift Rolls rolls loaded with 75MG THC each. Take them with you on the go or enjoy them peacefully at home.
Soft and spongy with pleasurable effects; these weed edibles are perfect for those with a sweet tooth. Why not treat yourself to these swiss rolls with a cannabis twist? 
This amazing edible weed in the form of Swift Rolls can be ordered directly from our exceptional online dispensary from the comfort of your couch and delivered reliably.

Where to Find the Best Edible Weed on Earth?

If you want to buy weed online in Canada, you can count on us to provide you with all the tastiest and most potent products. 
Finding cheap weed in Canada in the form of tasty edibles has never been this easy before. And it's all thanks to our amazing online dispensary that stocks all of your favourite weed edibles.
While choosing the best THC weed edibles may seem daunting, it shouldn't have to be. 
In fact, it should be fun and exciting and enticing to your senses. 
By purchasing any of the products above through mail order marijuana, you have ensured a pleasant, tasteful and effective cannabis experience.