The Buzz on Edible Weed: A Delicious and Potent Experience
If you have an insatiable sweet tooth, but you want to get your daily THC or CBD kick, edible weed is for you. 
Welcome to the most detailed article about edible weed gummies.
Here, you'll find out everything there is to know about edible cannabinoids, their recreational and medical benefits, suggested products to get from an online dispensary, and more. 
We also explain how long you need to wait for edible weed gummies to kick in, and how long these amazing effects last. 
So, what are you waiting for? Keep scrolling to find out all of the facts you must know about edible weed.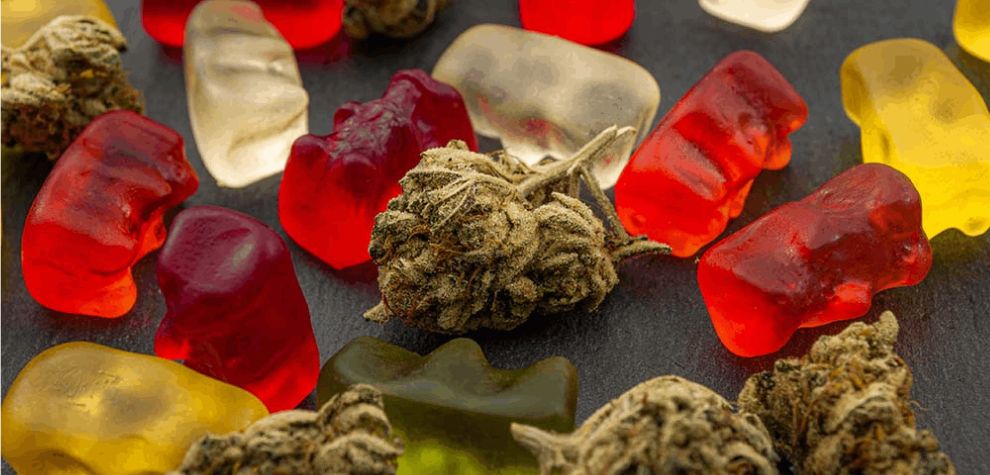 What is Edible Weed?
First things first: What is edible weed and why should you consider getting some from a reliable online pot store like MMJ Express? Here's the tea.
In brief, cannabis edibles are yummy and addictive food products that have been infused with weed. 
Think brownies, gummies, ooey-gooey chocolate bars, and even popcorn, syrup, and potato chips! 
Picture edible cannabinoids like a magical transformation where basic food becomes an exciting, mind-altering sweet or savoury treat. Delish!
The best part of getting edible weed is that you don't have to smoke anything to feel the outstanding effects. 
So, say goodbye to bulky and often expensive equipment and stay away from peering eyes. 
Just pop edible weed gummies in your mouth, and voila, you're in heaven! Of course, consuming edible weed gummies responsibly is important. 
While edible weed is tasty and seductive to your taste buds, too much of a good thing can quickly turn into an uncomfortable experience. 
Nevertheless, the side effects of consuming edible cannabinoids are highly unlikely to happen – but they are a possibility if you use too much and don't stick to the recommended dosage.
All in all, if you're looking to spice things up at your next dinner party, edible weed will surely be a hit. 
Just make sure to let your friends know what they're getting into – the effects are long-lasting and powerful. 
The Best Edible Weed Gummies and Treats to Buy from a Weed Dispensary
Now that you know what edible weed is and its main characteristics, let's start shopping. 
Below, you'll find the highest-rated and most potent edible THC and CBD to try today. 
Remember, you can get these edibles at MMJ Express, the best online dispensary in Canada. But first, peep at these detailed reviews.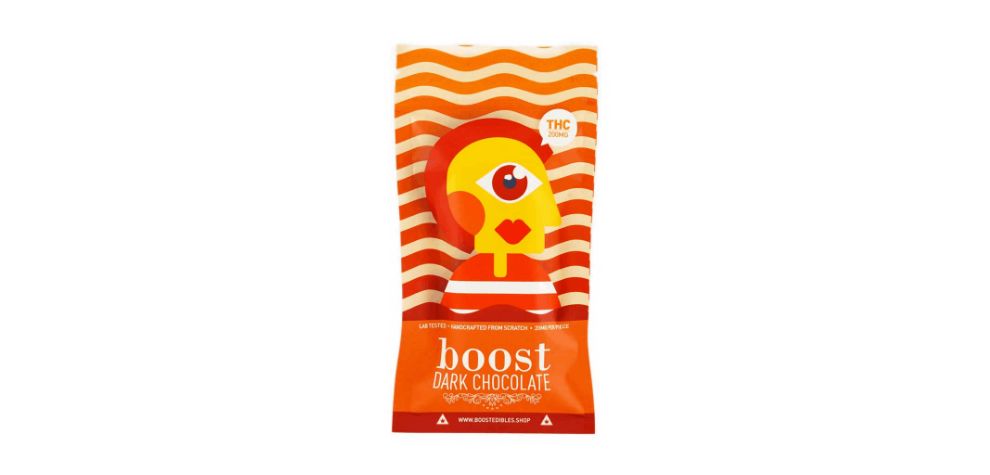 1. Boost Edibles Dark Chocolate Bar – 200MG THC
The Boost Edibles Dark Chocolate Bar – 200MG THC will satisfy your cravings and provide you with a bunch of beneficial antioxidants. 
As you know, dark chocolate is rich in antioxidants, helping with brain function and high blood pressure. 
But besides that, you'll get a whopping 200mg of THC per 40g bar. Break it up into 10 pieces and enjoy! Use this premium THC-rich dark chocolate bar to feel relaxed and calm. 
Best of all, it doesn't taste or smell like weed – just pure dark chocolate goodness. Buy some for only $24.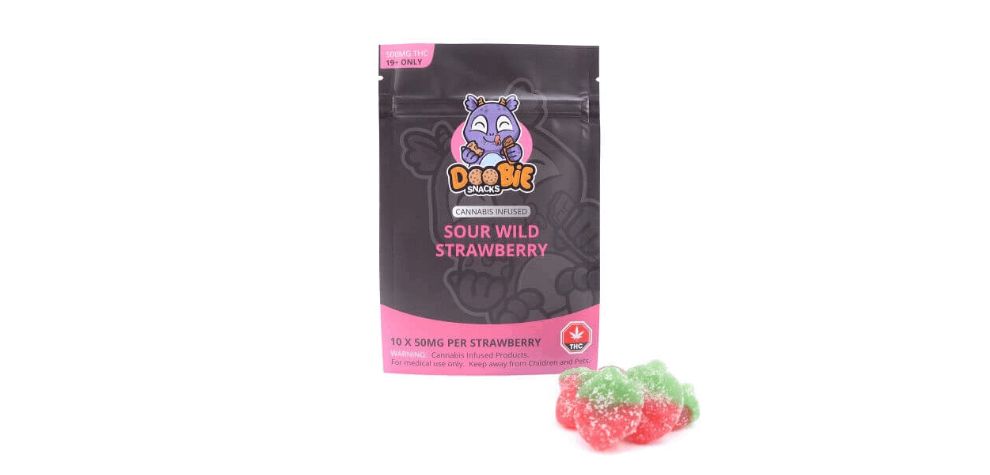 2. Doobie Snacks – Sour Wild Strawberry 500MG THC
The Doobie Snacks – Sour Wild Strawberry 500MG THC is one of the most popular edible weed gummies you'll find at MMJ Express. 
Each pack contains up to 500mg of quality THC, or 50mg per strawberry (you get 10 pieces in total). 
Flavour-wise, these powerful candies taste out of this world! They're sweet but not too sugary – just the right balance of flavours to keep you feeling satisfied. 
Use these weed gummies to feel relaxed, focused, and anxiety-free. 
Buy a pack or two for just $44.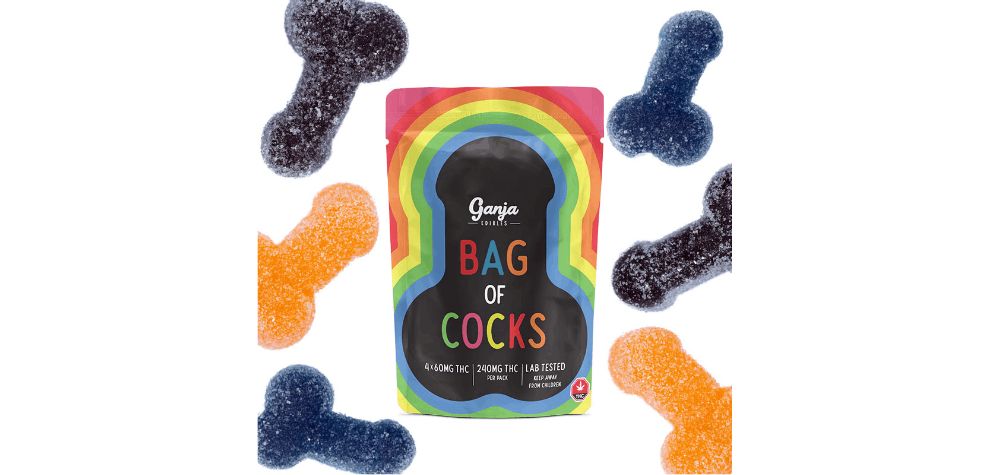 3. Ganja Edibles – Bag of Cocks Sour 4 x 60MG THC
Have some fun with these Ganja Edibles – Bag of Cocks Sour 4 x 60MG THC. 
They look funny, and they're guaranteed to make you laugh uncontrollably for hours! 
These artisanal premium infused weed gummies contain 60mg of THC per cock, or a total of 240mg per pack. 
These potent THC edibles taste amazing, and they're completely safe. Use these lab-tested THC cocks to feel euphoric, blissful, relaxed, and stress-free. 
Pick and choose between four mouth-watering flavours, including Sour Peach, Sour Grape, Sour Blackberry, and Sour Blueberry. 
For only $16 (currently on sale at MMJ Express), you have to try some today.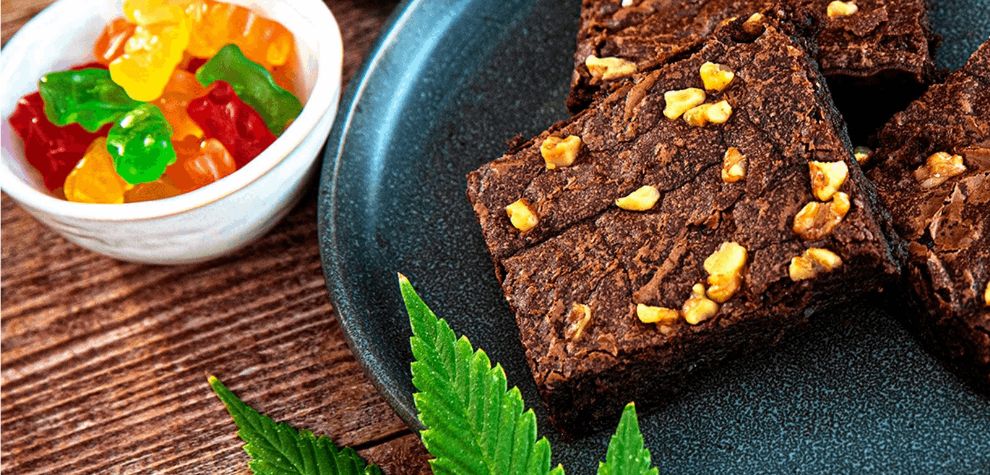 What are the Recreational and Medical Effects of Cannabis Edibles?
Edible weed won't only leave you sedated and rolling on the couch from laughter, but it also packs a punch when it comes to recreational and medical benefits. 
Here is what you need to know before buying edible weed gummies.
Let's begin with the recreational benefits of edible weed. 
One of the main reasons why stoners enjoy CBD and THC edibles is because they help you feel relaxed. 
On top of that, THC edibles can make you feel euphoric, and even enhance your senses. 
Watching a fun thriller movie or listening to cool music can be a whole new experience when you're in a slightly altered state of mind. 
As for the munchies, yes, edible weed gummies will make you hungry BIG TIME. 
Consumers recommend keeping healthy treats around, just in case you get ravenous. 
Most users say cannabis edibles can make food taste even more amazing and you might even discover a new favourite snack that you never knew existed. 
The medical benefits may be even more impressive! According to the experts, edible weed can help with acute and chronic pain relief, anxiety, stress, tension, and even insomnia symptoms. 
As mentioned, edible weed gummies can also stimulate your appetite, which is great if you're going through chemotherapy or struggling with an eating disorder such as bulimia or anorexia. 
And if you have an insatiable sweet tooth, edible weed gummies can be a healthier alternative to traditional sugary treats.
But, of course, with great power comes even greater responsibility. 
Make sure to always know your limits and start with the lowest dosage to avoid any unwanted and uncomfortable effects like cottonmouth and red eyes. 
We recommend consulting with a medical professional for the most accurate edible THC dosage. You can also reach out to an expert budtender at your favourite online pot store.
Most importantly, ensure that you only buy edible weed from reputable and reliable sources. 
Since these products can be very potent and the effects last for several hours (sometimes the effects can last up to the next day!), you'll want only the best of the best THC edibles. 
If you are looking for the best online pot store, MMJ Express is your go-to choice. 
Visit this online weed store and purchase the highest-grade edible weed gummies, concentrates, dry herbs, vapes, and much more.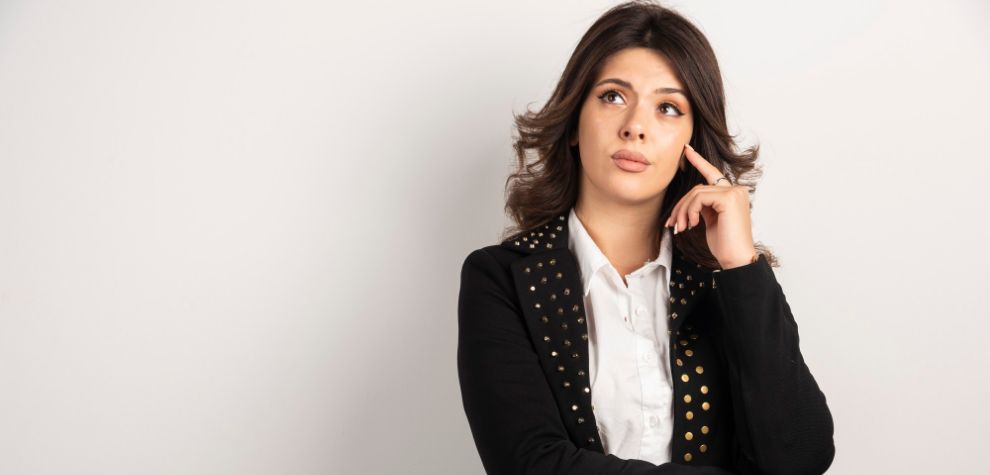 Is Edible THC Safe?
Yes, edible THC is safe when used in moderation. 
Before self-medicating with any cannabis product, make sure to consult with a medical professional for expert evaluation and guidance. 
If you are a complete beginner, it is always best to start with the lowest dosage possible and only increase amounts if necessary.
How Long Do the Effects of THC Edibles Last?
We know that edible weed is potent, but how long do the effects last? The answer is: It depends. 
The exact time frame of your high will depend on a variety of factors such as the quality of the product, reliability of your online dispensary, and individual factors such as metabolism and tolerance levels to THC. 
Generally, it may take anywhere from 30 minutes to two hours for the effects to kick in. Once the effects are in full swing, get ready for a bumpy ride!
The effects of THC cannabis edibles can last anywhere from four to 12 hours, depending on the factors previously mentioned. 
In fact, some stoners say that you might be feeling a little loopy even into the next day. Keep this in mind, especially if you have an interview or another important meeting scheduled for the next day.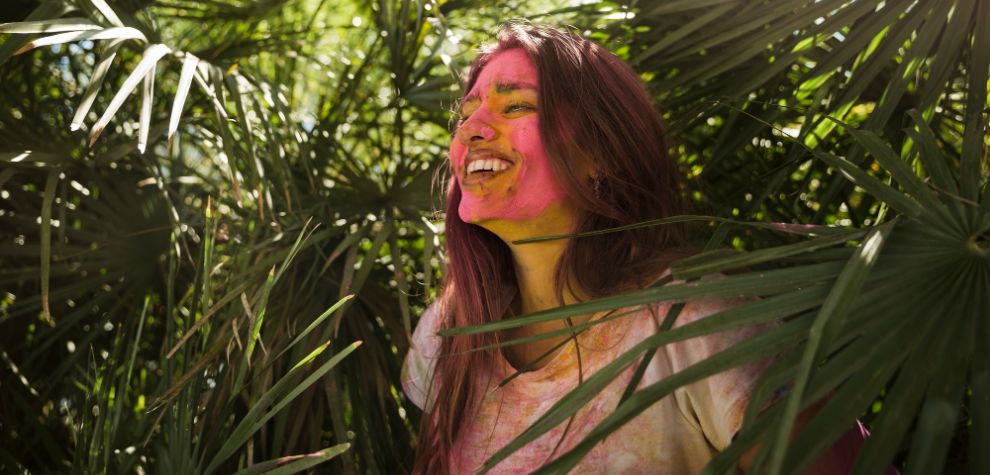 Who Will Enjoy Edible Cannabinoids?
There are a few good reasons why edible weed is often believed to be superior. 
First of all, weed edibles can be a discreet, fool-proof, and convenient way to enjoy the benefits of marijuana. Take them anywhere and use edibles at any time. No need for bulky equipment.
Secondly, weed edibles can be a healthier alternative to smoking, especially if you have a sensitive throat. 
Plus, you can indulge in your favourite sweet treats without feeling guilty about inhaling smoke.
Thirdly, weed edibles offer a more consistent and controlled dosage compared to other forms of consumption such as vaping or smoking. With canna edibles, the dosage is clearly labelled on the packaging. 
Finally, let's not forget the versatility of cannabis edibles! 
You can find these adult-friendly treats in all kinds of delicious forms, from soft brownies to sugar-coated lollipops to even high-end chocolates.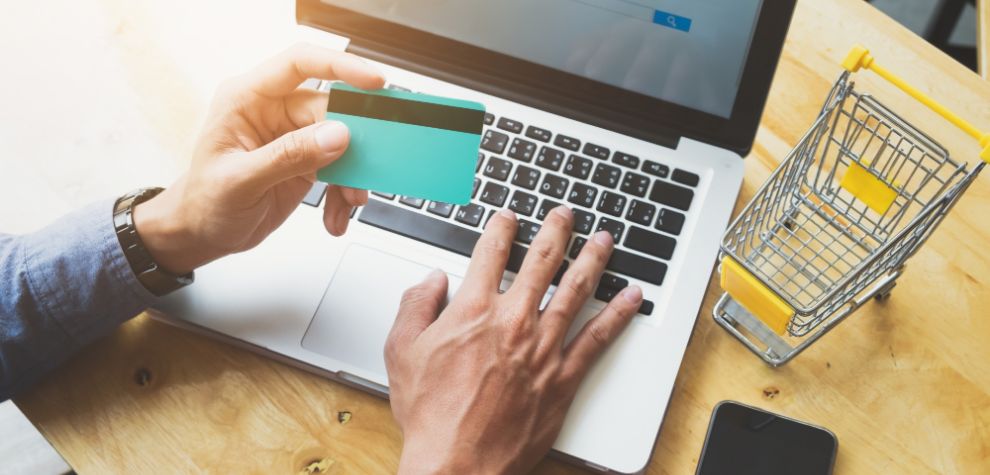 Where Can I Buy Weed Online?
Buy the highest-quality edible weed and other cannabis products at MMJ Express, the best place for weed online in Canada. 
Purchase mail order marijuana right now and get products delivered to your doorstep in the blink of an eye! 
Hurry up and take advantage of the latest deals. Save money and get high today!