Meet The Sour Diesel Strain: The High-Energy Sativa for Maximum Fun!
The Sour Diesel strain is the perfect Sativa to fuel your energy and motivation and help you power through your workouts. 
But how much do you know about this hybrid? All the info you've ever wanted to know is here!
In this detailed guide, we'll cover all of the must-know facts you won't find anywhere else! 
From its potent THC content to its unique terpene profile, we'll explore the many flavours and aromas that make Sour Diesel a favourite among weed enthusiasts. 
On top of that, we'll also dive into the strain's medical effects and discover how it can provide relief for a variety of ailments. 
Additionally, we'll mention what it feels like to be high on this energizing strain. 
Relax, light up, and get ready to learn everything you ever wanted to know about Sour Diesel – the perfect way to start your day!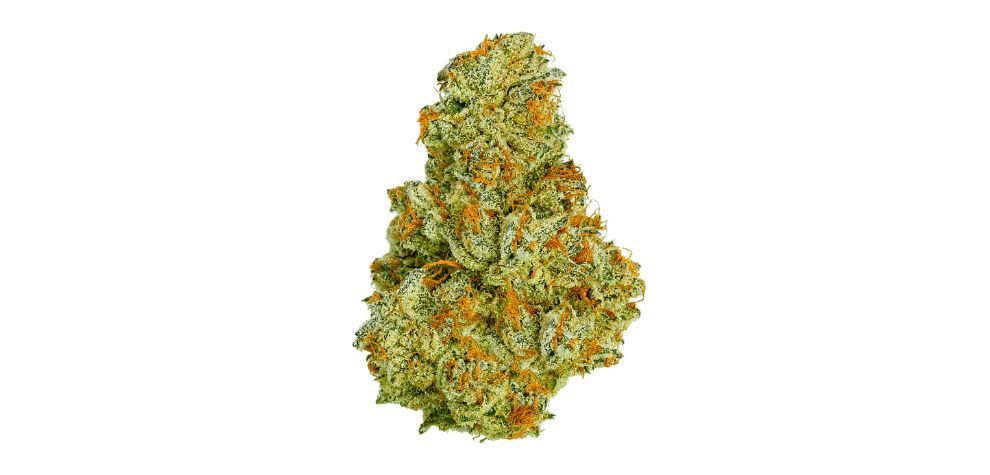 The Sour Diesel Strain: Get Through That Mid-Day Slump
What strain is Sour Diesel? 
Well, it's a legendary and potent Sativa-dominant hybrid that's beloved by cannabis enthusiasts in Canada. 
Some say it's the lovechild of 91 Chemdog and Mass Super Skunk, while others believe it's a mysterious combination of Chemdog phenotype and Mexican Sativa. 
Either way, one thing is for sure: Sour Diesel is a rare and famous hybrid that'll leave you feeling energized, invigorated, and super stoked.
Packed with around 26 percent of THC, 2 percent CBD, and 4 percent CBN, Sour Diesel is not for the weak-spirited! 
Its distinctive and seductive flavours of candy, dank, diesel, skunky, and citrus will excite your taste buds and awaken your senses. 
As a medicinal strain, Sour Diesel is highly effective in treating anxiety, chronic pain, and fatigue, making it a favourite among patients.
If you're looking for an alternative to this legendary strain, we got your back. Try out the Tangie strain, the Lemon Haze strain, or the Super Lemon Haze strain. 
These citrus-flavoured Sativas will fuel your workouts, boost your energy levels, and leave you feeling focused and euphoric.
Throughout this guide, we'll provide you with all the must-know facts about the Sour Diesel strain. From its effects to medical benefits, terpene profile, flavours, and aromas, you'll learn about it all! Scroll on.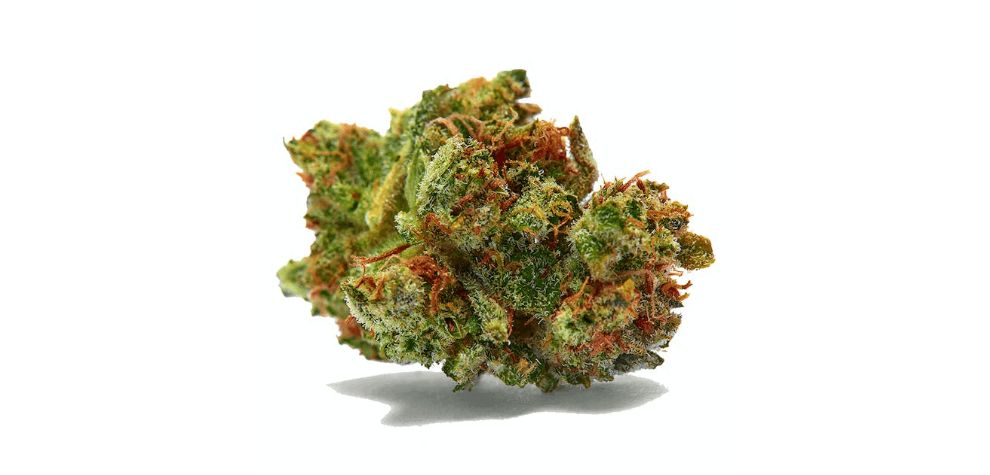 Diesel Sour Strain THC Content
If you're looking for a potent strain to add to your cannabis collection, Sour Diesel, aka "Sour Deez" or "Sour D," should be on your list. 
With around 26 percent THC, Sour Diesel is suitable for the bold and brave and is best purchased from a reputable online dispensary where you can ensure the THC percentage is accurate. 
That's where MMJ Express comes in!
MMJ Express is the go-to dispensary for high-quality, tested cannabis products. 
Not only do we offer top-grade weed at low costs, but we also provide quick and discreet shipping, so you can enjoy your mail-order marijuana without any hassle. 
Whether you're looking to try Sour Diesel or any other strain, MMJ Express is here to help. Purchase canna from MMJ Express and experience the best of online weed shopping today!
Sour Diesel Weed Terpene Profile
Terpenes are one of the many things that make weed so amazing. 
These aromatic organic compounds can be found in many plants, but they are particularly abundant in marijuana. 
Not only do they determine the flavour and aroma of the plant, but they also work together with THC and other cannabinoids to create different experiences for stoners.
Sour Diesel is a strain that's well-known for its amazing aroma and flavour, and it's all thanks to its high terpene content. The top three terpenes in Sour Diesel are limonene, myrcene, and beta-caryophyllene.
Limonene is a terpene commonly found in citrus fruits and is responsible for the deliciously citrusy aroma and flavour of Sour Diesel. 
There's more – limonene also has some incredible mood-enhancing effects. This terpene is known for its anti-anxiety and antidepressant properties and may even have anti-inflammatory effects.
Myrcene is another common terpene found in cannabis, and it has a musky, earthy aroma. 
This terpene is often associated with sedative effects, making it perfect for relaxing after a long day. 
Myrcene is also believed to have anti-inflammatory and analgesic properties, as well as being useful for reducing stress and anxiety, plus promoting sleep.
Finally, there's beta-caryophyllene – a spicy terpene that's found in black pepper, cloves, and cinnamon. This terpene is known for its anti-inflammatory and analgesic properties and can help to relieve pain and inflammation.
The combination of these three terpenes in Sour Diesel is what makes this strain so tasty and worthwhile. 
Not only does it have a deliciously citrusy aroma and flavour, but it also provides uplifting and energizing effects.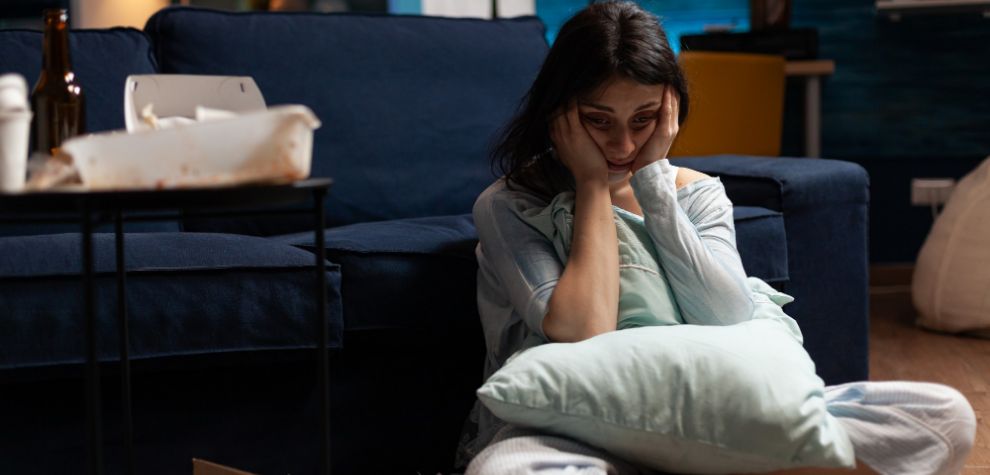 Sour Diesel Strain Recreational and Medical Effects
When you're high on the Diesel Sour strain, you'll feel like a turbocharged engine ready to rev up and go! 
This Sativa-dominant hybrid provides a euphoric and uplifting high, making it perfect for consumers seeking a boost in energy, focus, and creativity. 
Its high THC content can leave you feeling like you're flying high, but don't worry, it won't leave you stranded on the side of the road.
Sour Diesel is a highly effective medicinal strain that can help treat a variety of conditions such as anxiety, mild to moderate depression, chronic pain, and fatigue. 
It's also a great choice for medical patients suffering from ADD/ADHD, as it can improve concentration and focus. Hence, whether you're feeling a bit down or need a pick-me-up, Sour Diesel can help get you back on track.
But, if you're a beginner user, remember to start low and go slow, especially with a potent strain like Sour Diesel. 
While this strain is safe for most users, it's always best to consult with a medical professional before trying any new medication. Furthermore, as with any canna product, practicing mindful use is key to a safe and enjoyable experience.
Diesel Sour Strain Flavours and Aromas
As soon as you crack open a bag of Sour Diesel, your nose will be hit with an intense diesel scent, mixed with notes of citrus, skunk, and a hint of sweetness that makes it one of a kind. 
The aroma is so pungent that it can linger in the air for hours, so make sure you're in a well-ventilated area or have some air fresheners on hand to cover up that skunky smell.
What about its taste? 
The first hit of Sour Diesel will flood your taste buds with a sour, lemony taste, followed by a woody and earthy undertone. As you exhale, a spicy aftertaste that hits the back of your throat will leave you wanting more.
Best Products Like the Sour Diesel Weed to Buy at Our Online Dispensary
Get the best weed online in Canada and treat yourself to some Sour Diesel! Check out these reviews and buy weed online today.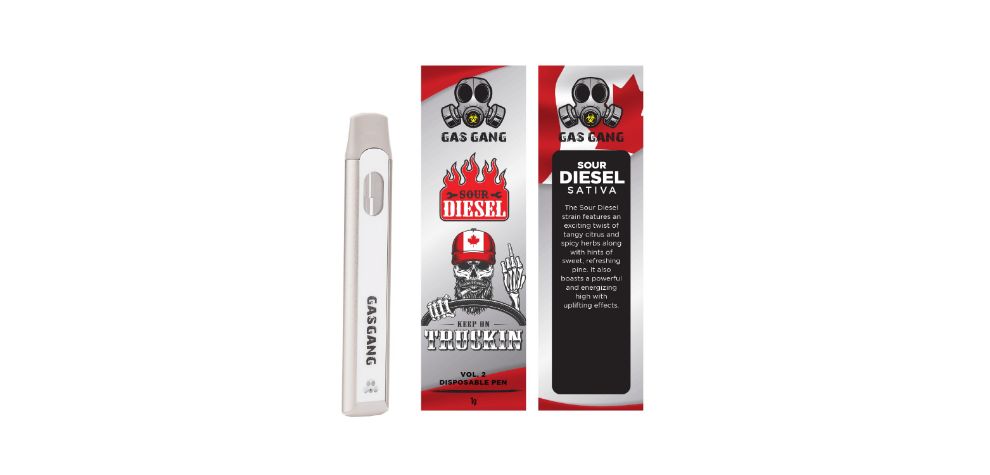 1. Gas Gang – Sour Diesel Disposable Pen (SATIVA)
The Gas Gang – Sour Diesel Disposable Pen (SATIVA) is the perfect choice for vapers looking to try the Sour Diesel strain. 
This easy-to-use and convenient disposable pen packs 2g of pure distillate mixed with organic terpenes, providing a flavourful and potent vaping experience. 
With THC levels ranging between 92 to 96 percent, this pen guarantees a life-changing high that will leave you feeling like you're on cloud nine. 
Die-hard vapers, get ready to take your vaping game to the next level with the Gas Gang – Sour Diesel Disposable Pen (SATIVA)! Stoners say the effects can last for almost an eternity.
Buy weed online like the Gas Gang – Sour Diesel Disposable Pen (SATIVA) for just $40.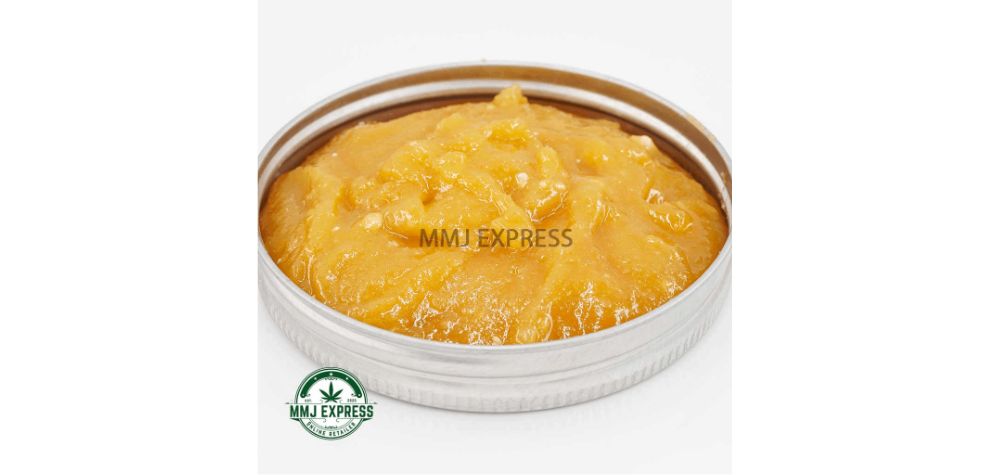 2. Live Resin – Lemon Sour Diesel
If you're a cannabis expert wanting to try out the Sour Diesel strain, the Live Resin – Lemon Sour Diesel is a must-buy! 
This Sativa hybrid is almost identical to the classic Sour Diesel and will leave you feeling creative, energized, uplifted, and euphoric, making it a great choice for treating chronic pain, headaches, stress, and depression.
Here's a quick heads-up for users new to live resin.
In short, cannabis live resin is a concentrate type that is created using fresh, frozen marijuana buds that are then extracted using a special process to preserve the plant's natural flavours and aromas. 
To use it, simply heat it up and inhale, and you'll be on your way to an amazing high!
With its delicious lemon and sweet flavours and signature diesel aroma, the Live Resin – Lemon Sour Diesel is a treat! 
Buy weed online like Live Resin – Lemon Sour Diesel for a mere $20.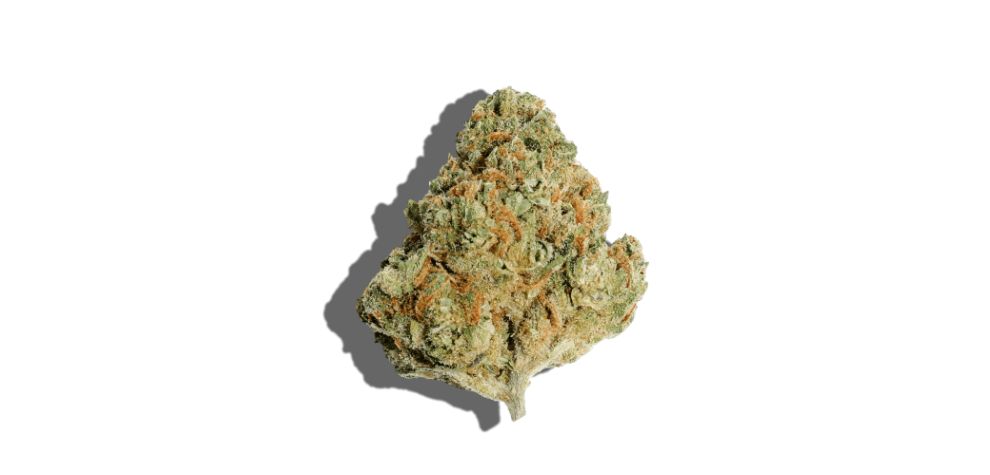 FAQ
What strain is Sour Diesel?
Sour Diesel is a Sativa-dominant hybrid strain with a THC content of around 26 percent. It has a unique aroma and flavour profile with notes of citrus, diesel, and skunk. 
The strain provides an uplifting and energizing high, making it a popular choice among recreational and medical users looking for a bud to tackle anxiety, chronic pain, and fatigue.
Is the Diesel Sour strain potent?
Yes, the Sour Diesel is a super potent strain, so novice users should be careful and mindful when using it. The high THC content and energizing effects can be overwhelming for some, so it's best to start with a low dosage and work your way up slowly. 
Purchase Mail Order Marijuana Today
Buy the Sour Diesel strain and other highly-rated cannabis products at MMJ Express, the best online dispensary in your area. Hurry up and place an order today!