Pink Gasoline Strain Review: Is This The Gassiest Indica Bud Yet?
As the name suggests, the Pink Gasoline strain is one of the most pungent buds you can buy online in Canada today. But what does this strain make you feel? 
How much THC does it have? In this Pink Gasoline strain review, we find out what it is, where it originated and where to buy weed online in Canada.
Cannabis strain names can be confusing, especially to new consumers who are only getting into weed after legalization. 
Currently, lots of products are available in local and mail-order marijuana dispensaries, including some that you may have yet to come across.
Pink Gasoline strain is a rare bud you only encounter once in a blue moon. 
While you may not have heard much about it, it's one of the most sought-after buds in Canada for several reasons. As the name suggests, Pink Gasoline is among the gassiest strains you can find today.
But that's not all. This strain is also known for its effects when used for medicinal or recreational purposes. But what exactly is the Pink Gasoline strain, and what effects does it have?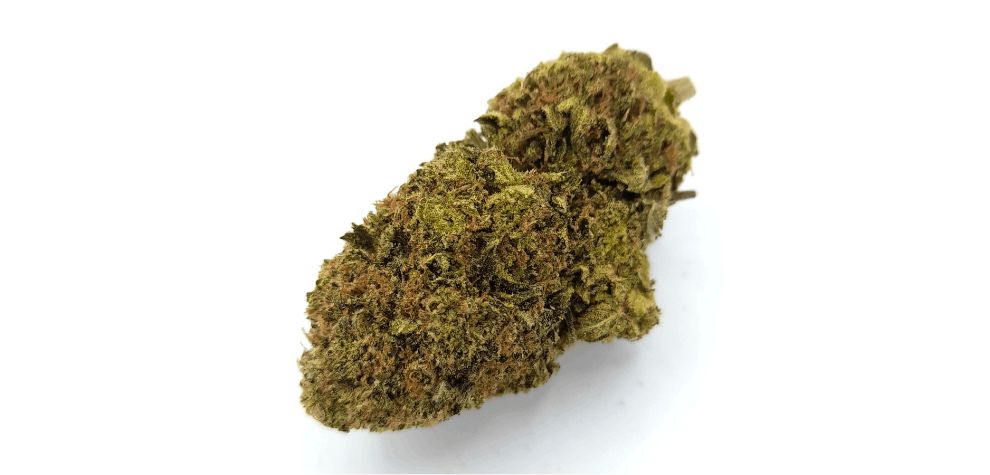 What Is Pink Gasoline Strain?
As mentioned before, due to the nature of the cannabis industry, especially before legalization, cannabis naming systems aren't as streamlined as in other industries.
Strains are named after anything, from legendary cannabis activists such as Jack Herer, candies such as the legendary Girl Scout Cookies and even effects – such as Death Bubba, a close relative of the classic Bubba Kush strain known for its death-like sleep-inducing effect.
Some names, as you will soon find out, can even refer to two completely unrelated strains. Such is the case with our today's subject – Pink Gasoline strain. Pink Gasoline can refer to several gassy strains. It may refer to Pink Gasoline, Pink Gas or, Pink Gas Mask.
The first one, Pink Gasoline strain, is an indica-dominant hybrid made by crossing the rare 33 Splitter strain with Peach Ozz. This strain was created by Perfect Tree as a hybrid of the ultra-potent Gelato #33. Like all the other buds mentioned here, this strain has a characteristic fuel aroma and flavour.
The other nug, Pink Gas Mask, is a cross between Pink Kush and Gas Mask. This is an indica-dominant strain known for its high THC content, which ranges from 19% to 28% and its pungent aroma and flavour that combines earth, skunk and diesel notes.
The last Pink Gasoline strain and the subject of this review is Pink Gas, a cross between the legendary Bubba Kush and Pink Kush strains. Pink Gas strain is a heavy indica hybrid with an indica-to-sativa ratio of 90:10. 
Named for its gorgeous appearance and heavy gas stench, the Pink Gas strain is perfect for any cannabis consumer who prefers indicas over other types of strains. But what makes this strain so unique?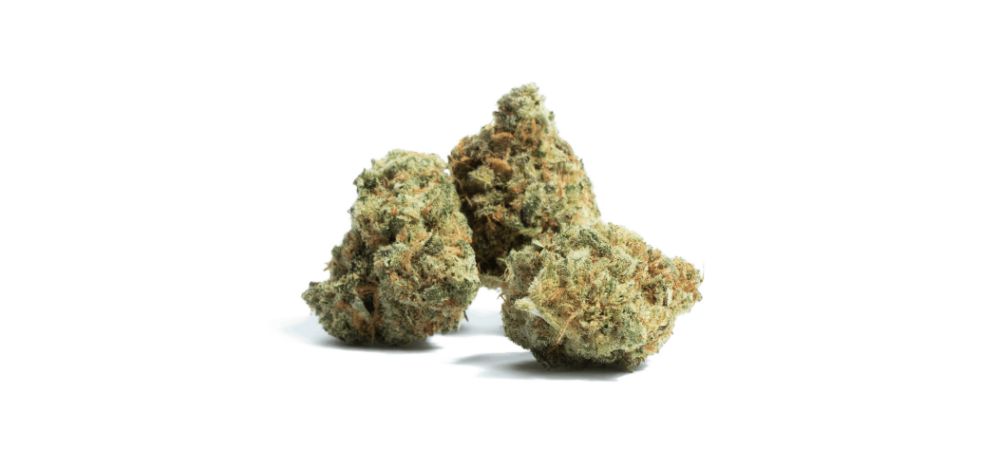 Pink Gas Strain Review: Appearance, Aroma, THC Content and Flavour
Appearance
Pink Gas, also known as the Pink Gasoline strain, like most indica strains, has super dense grape-shaped buds. These nugs are drop-dead gorgeous with forest green sugar leaves, pink undertones, and thin orange hairs twirling around the buds.
The icing on the cake is a thick coating of milky white crystal trichomes that appear to be pink-tinted. The trichome cover gives the green nugs an eye-pleasing icy/sugary look.
Aroma
Opening a jar full of Pink Gas strain buds gives off a stench of pungent gas and spicy diesel notes. This aroma is unmistakably indica and only intensifies as you pull the buds apart or grind them to prepare a joint.
Flavour 
Pink Gasoline strain flavour is not that different from the aroma. Taking a hit of this pretty bud gives off sweet and flowery herbs with a hint of gassy diesel. This strain fills the room with aroma, so this might not be it if you are looking for a lowkey bud.
However, if you are a fan of gassy strains, Pink Gas is just what you need. This and other gassy strains are available online in Canada at MMJ Express, the country's leading mail-order weed dispensary known for stocking premium products at the lowest prices, guaranteed.
Buy weed online today and enjoy the best products, incredible discounts and Canada-wide shipping!
Pink Gas Strain THC Content
Pink Gas is a 90% indica and 10% sativa hybrid known for its high THC content and profound sedative effects. This strain has a high THC content average, testing at between 19% – 26%. This high THC content is more than enough for recreational and medical purposes.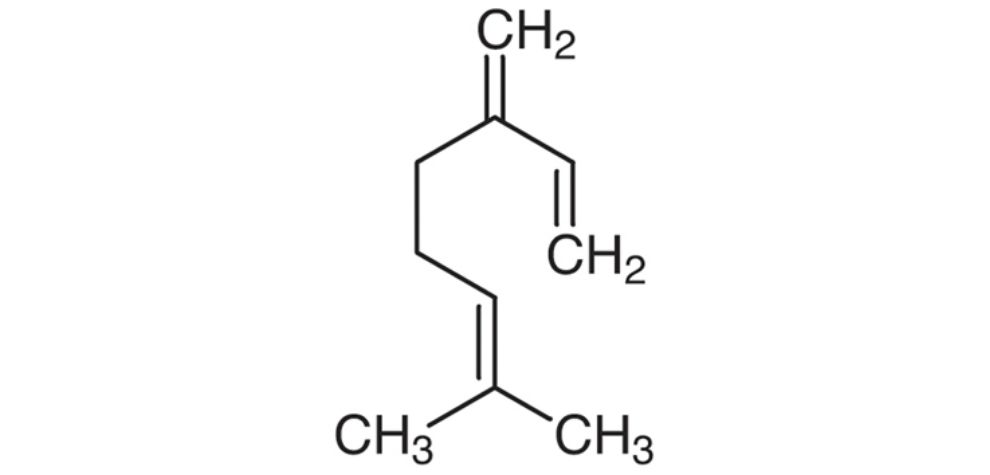 Pink Gas Terpene Profile
Pink Gasoline strain primary terpenes are Myrcene, Pinene, and Caryophyllene. Myrcene is one of the most abundant cannabis terpenes. It is also found in hops and lemongrass and is known for its spicy, peppery flavour.
Myrcene, according to research, has antibacterial, anti-inflammation, antioxidation and analgesic properties. The other prominent terpene in Pink Gas bud is Pinene. Pinene is a terpene defined by a distinct piney aroma.
It's rare to find a pinene-dominant strain. However, available studies show it still has potential benefits, including anti-aging, antioxidant, antimicrobial and anti-inflammation properties.
The other dominant terpene in Pink Gas is Caryophyllene. Caryophyllene is a terpene present in many herbs and spices, including black pepper, basil and oregano. It is a spicy terpene.  Caryophyllene is the only terpene known to also act as a cannabinoid in that it can activate the endocannabinoid system (ECS).
Caryophyllene's potential benefits include anti inflammation, pain relief, and antimicrobial.
There is no single terpene that causes the distinct gassy, diesel-like smell in strains such as Pink Gas. This unique aroma is a combination of two or more terpenes, often myrcene and limonene. Aside from contributing to the smell and aroma, terpenes can also work synergistically with cannabinoids through a mechanism known as the entourage effect.
Pink Gas Strain Effects: How Will It Make You Feel?
Pink Gasoline's effects kick in almost immediately after you exhale. A few puffs in, you will feel the effects of these gassy strains start taking hold, starting with cerebral effects. This strain's mental stimulation leaves you with an unfocused sense of happiness and calm.
This strain also leaves you with no negative thoughts, and you can feel as your racing thoughts slow down and calm kicks in. As time continues to pass by, the effects become more physical, as is typical of heavy indicas like Pink Gas.
The body high starts as a tingling sensation that slowly spreads through the body, numbing any pain in the joints, relaxing any muscles and soothing aches; before you know it, you will be completely relaxed. 
Pink Gas will leave you completely couch-locked. At this point, there is nothing else to do but relax and sink into the couch before you finally fade into deep sedation, then sleep.
Ensure you have your snacks nearby, as this bud also causes intense munchies, and you will be couch-locked before you are done with it. Pink Gas effects may potentially manage chronic pain, anxiety, depression, insomnia, stress, ADD and ADHD.
This strain's most prevalent side effect is dry mouth, so stay hydrated when taking this bud. Due to its sedative properties, this bud is best used in the evenings before bed.
Best Pink Gas Strains To Buy Online In Canada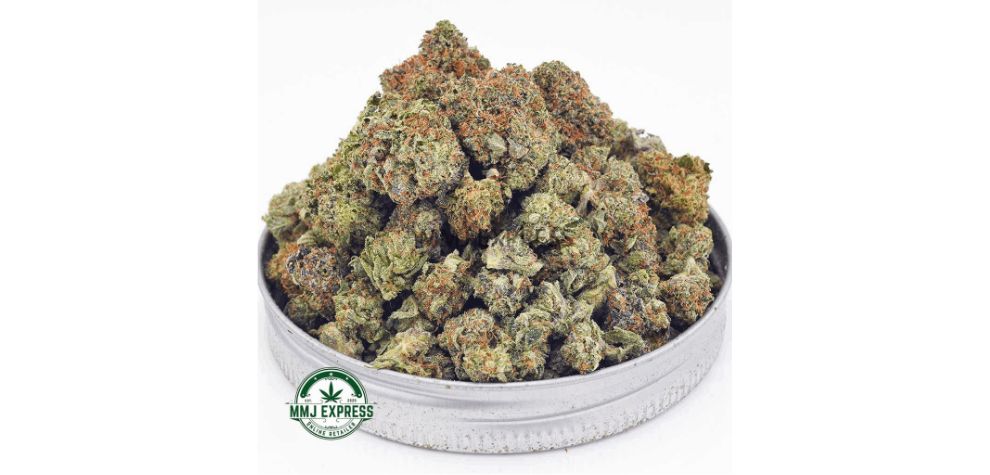 1. Pink Gas Popcorn Nugs
Are you looking for the best Pink Gasoline strain products in Canada? Grab these AAAA Pink Gas popcorn nugs at MMJ Express, Canada's leading mail-order marijuana dispensary, at the lowest price, guaranteed.
These Pink Gas nugs have a high THC average of 26%, making them some of the most potent buds you can find as you buy weed online in Canada. They have a spicy, diesel aroma and a sweet, flowery and gassy flavour.
Buy AAAA Pink Gas popcorn nugs online today!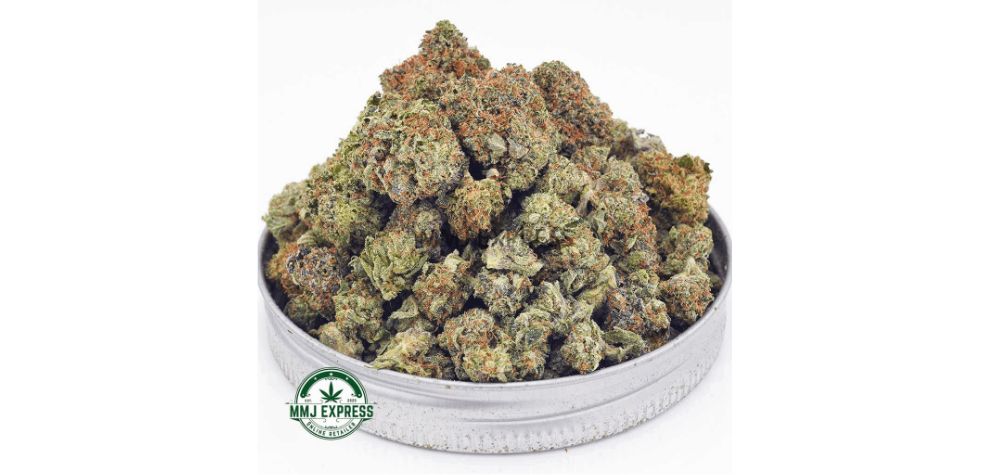 2. Astro Pink Popcorn Nugs – Best Pink Gasoline Strain Alternative
If you are looking for something closer to the Pink Gasoline strain, these AAAA-grade Astropink popcorn nugs at MMJ Express may be just what you want. 
These high-quality buds have a gorgeous appearance, delicious flavour and plenty of body effects.
Astropink is a Pink Kush phenotype with an 80% indica and 20% sativa ratio. These nugs give off sweet fruits, woody pine and gassy diesel aromas. The flavour has a light fruitiness, accented by woody pine and earth.
Looking to buy weed online? Buy these AAAA-grade Astropink popcorn nugs at MMJ Express today!
Where To Buy Pink Gas Strain Online In Canada
The Pink Gasoline strain is a heavy indica dominant hybrid with a 90 to 10 indica to sativa ratio. 
As the name suggests, this strain has a pungent diesel-like aroma and flavour. Its effects range from uplifting to heavy sedation and couchlock.
Are you looking to buy Pink Gasoline strains and other gassy buds online? Buy weed online at MMJ Express today and enjoy premium quality weed at the lowest prices guaranteed. 
MMJ Express is a leading Canadian online dispensary known for quality products and low prices. 
Order weed online at MMJ Express and enjoy incredible discounts, offers and promotions and Canada-wide shipping for orders above $150!