Can I Make a Cannabis Gummy Bear Myself as a First-Timer? 
Beyond smoking cannabis, another exciting and popular way to enjoy it is by making cannabis gummy bear recipes yourself, especially for those who are still fresh to the world of cannabis. 
Thankfully, a couple of dispensaries out there have different kinds of gummies you can buy easily (rules may apply, depending on your state of location). 
More excitingly, you can also make your choice of cannabis gummy bear recipes within the four corners of your home.  
Another amazing thing about making cannabis gummy in your home is that it allows you to customize your taste. 
Moreover, you can customize the shape, flavour, and look. So, you don't have to mail-order marijuana all the time.  
Read on for some simple cannabis gummy bear recipes to make at home.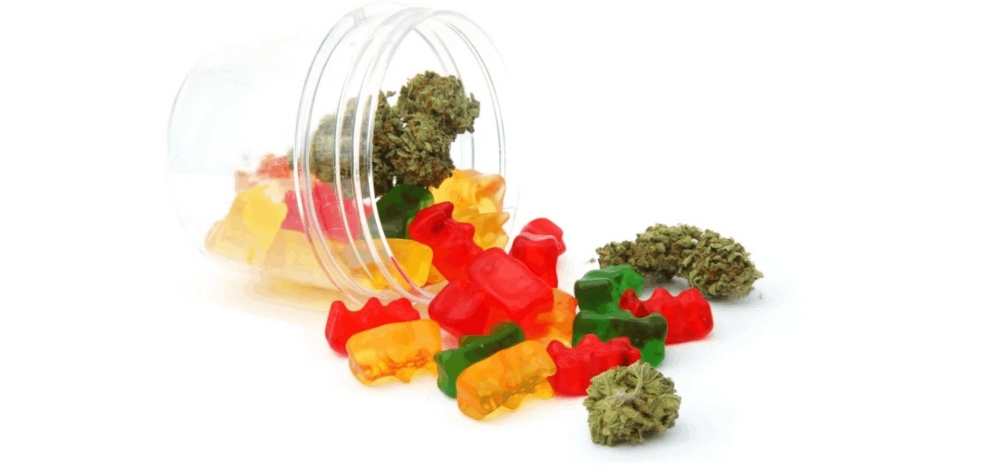 Cannabis Gummy Bear Recipes
Making your cannabis gummy bears requires you to have the rest of that recipe as well as the equipment to make one.
However, you can get most of these cannabis gummy bear recipes from a weed store. To make cannabis gummies, you will need different recipes such as cannabis-infused oil. 
Fortunately, you can make use of different oils for cannabis gummy bear production such as cannabis-infused coconut oil and other suitably cannabis-infused oils. 
Tools/ equipment for Cannabis Gummy Bears
A sizeable bowl to mix your cannabis gummy

Whisk

Funnel/squeeze bottle/dropper

Mould 
Recipe for Cannabis Gummy
Half a cup of cannabis-infused oil of your choice 

A pack of flavoured jello

Two tbsp unflavoured gelatin powder

Half tbsp of sunflower/soy lecithin

Half a cup of cold water 
Making your cannabis gummy bear
Now that you have your cannabis gummy bear recipes and the necessary equipment in place, the next thing to do is to begin making your cannabis gummies. 
But how do you begin cannabis gummy production? With the following steps we have explained, you can start making your cannabis gummies. 
Step 1: Water And Cannabis-Infused Oil Combination
As mentioned in the above cannabis gummy bear recipes, the first thing to get is your half cup of cold water and add it to the half cup of your choice of cannabis-infused oil. 
Then add it to the half teaspoon of sunflower/ soy lecithin. Turn it into a saucepan as well as turn it on low heat. 
Step 2: Adding your gelatin 
You have added the above recipe to the saucepan. The goal is to continue stirring it until you achieve the right texture. Stir until all the recipes dissolve to get a consistent mixture. 
After that, get your flavoured gelatin as well as two tablespoons of unflavored gelatin. 
Add it to the recipes you already have in the saucepan. However, you should not stop stirring it as you add the gelatin.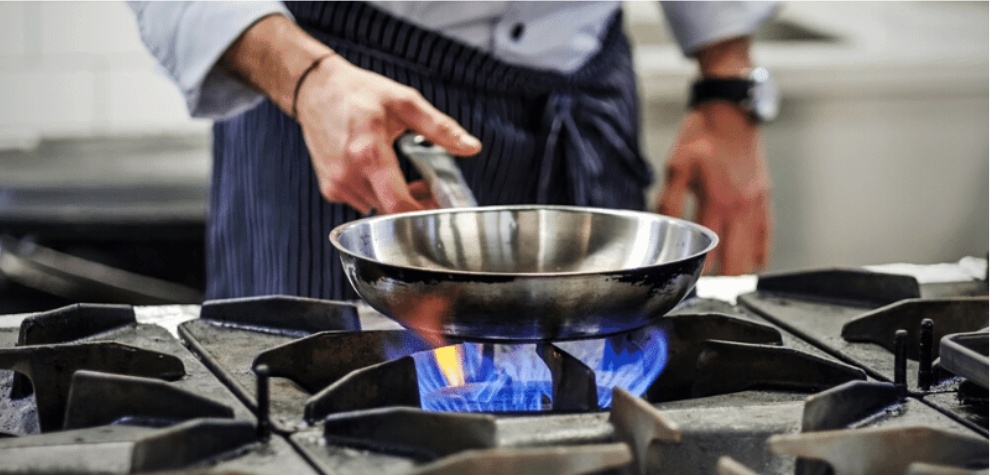 Do not stop stirring the mixture as you keep it on low heat for a minimum of ten to fifteen minutes. This will help dissolve the gelatin fully to your taste. 
Continue mixing it while preventing it from coming to a boil. If it boils, it will not allow the mixtures to be set properly. 
You may sometimes notice the formation of whitish foam at the top of the mixture. Whenever this happens, you should try to remove it and reduce the heat. 
At this point, every ingredient you have combined and mixed must have settled properly and smoothly. 
Step 4: Filling the Gummy Moulds
Now that all your recipes have come together smoothly, now it is time to start filling your gummy moulds. 
Thankfully, you can do this using different equipment such as a funnel, a squeeze bottle, or a dropper depending on your choice. 
Ensure to not bring down the saucepan from the heat, and you must also make sure to not work slowly to prevent the mixture from becoming cool. 
If you work slowly to the extent that the mixture turns cool, the ingredients will not attach to other ingredients and will affect the outcome.  
You should not also stop whisking the mixture so that it won't bind together and become hard. Do not forget—the result you will get will be based on how fast you are with getting your mixture into the gummy moulds. 
You have filled your moulds with your tasty gummy and now, it is time to freeze it. Get the moulds and pop them in the freezer, then leave them in the freezer for at least thirty minutes. 
After these minutes, they will turn hard to firm, however, the texture will be a bit tacky. Get them out from the moulds and put them on a parchment paper piece to air dry.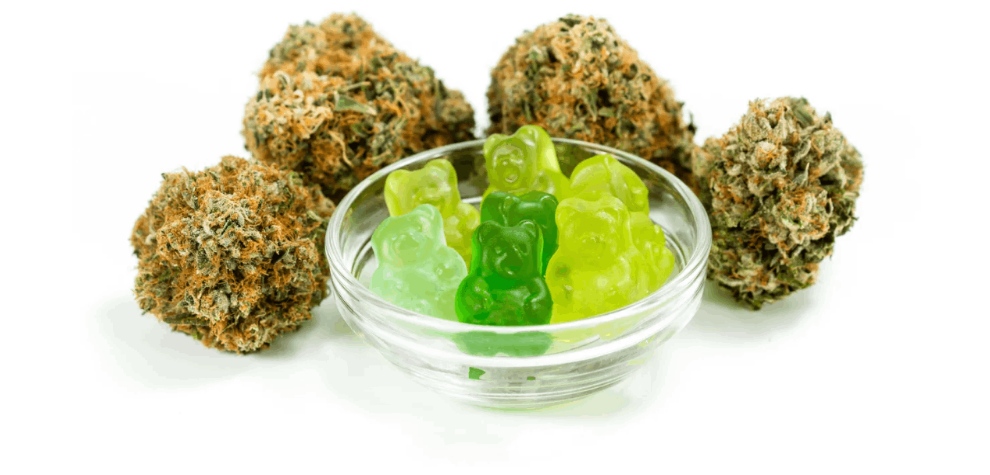 Adding Cannabis to Non-Infused Gummies
Now that you have learned how to make edible cannabis gummy bears, you should know how to turn regular gummies into edibles. 
The process of turning gummy bears into edibles is not the same as the one explained above. Here, you will need the following recipe and equipment:
2 tbsp of warm water 

4 ounces of gummies (you can use any preferable gummy)

Gummy mould 

1-2 teaspoons of cannabis-infused oil

Half tbsp of gelatin 
Start by adding the gelatin to the warm water, leaving it for at least five minutes. Add the gelatin mixture to the gummies then place in a microwave and leave to melt. 
Turn the cannabis-infused oil and combine once the gummies become melted. 
You may consider adding a small amount of lecithin to emulsify it if you find it difficult in combining the cannabis-infused oil with the gelatin mixture. 
Upon combining all the recipes, add your gummy mixture mould and leave it for about thirty minutes in the freezer. 
Once it becomes frozen, leave it for about an extra day. This will allow the leftover moisture to evaporate. 
This makes it easier for you to make a cannabis gummy bear recipes from scratch even if you lack the resources or don't have enough time. The alternative is cost-effective and amazing. 
Measuring the THC percentage for your edible gummy
Measuring the THC percentage of your edible gummies will be based on how strong the cannabis-infused oil you are using is. 
You will need to decarboxylate if you are going for an extremely potent flower strain for your oil. 
This will help your gummies to not be too potent. 
This is why you should always consider using a low THC strain, especially if you are a newbie to making gummies then adjust the THC level as you get used to it.
Other Amazing Weed Gummy Bears To Try Out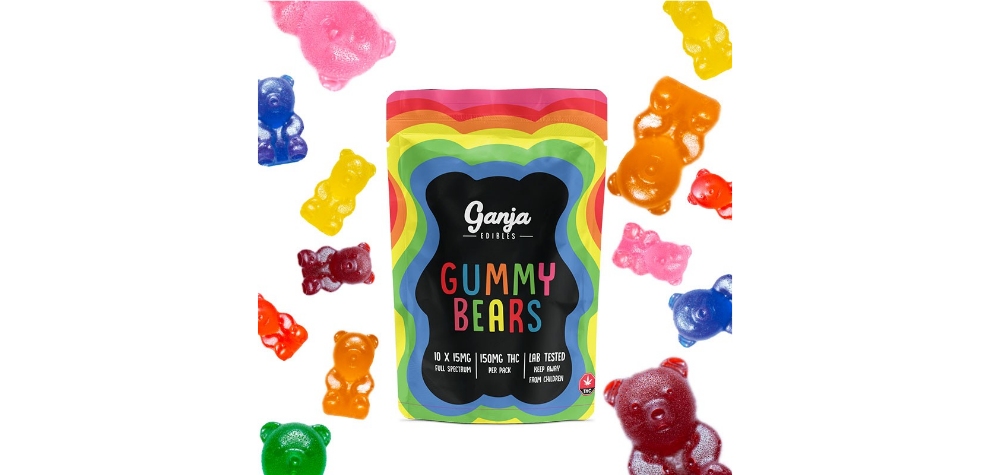 Ganja Edibles Gummy Bears 150MG THC 
Ganja Edibles Gummy Bears 150MG THC is a handcrafted artisanal premium infused edible. You will never find any other tasty-dosed medical edible like it. Thanks to gummies infused with 15MG x10 in each gummy made with undiluted food-grade cannabis oil. 
The common terpene in cannabis is introduced once again which makes it more effective as well as creates the best euphoria for users. More interestingly, it comes with no hangover effect. Ingredients in these gummy bears include citric acid, cannabis oil, and other ingredients. 
You should, however, wait patiently until after about 90 minutes before you take an extra dose if you want to use it. 
This will help you uncover its full effect. It is best to take it with food for its full effectiveness. You can buy this product from our online dispensary.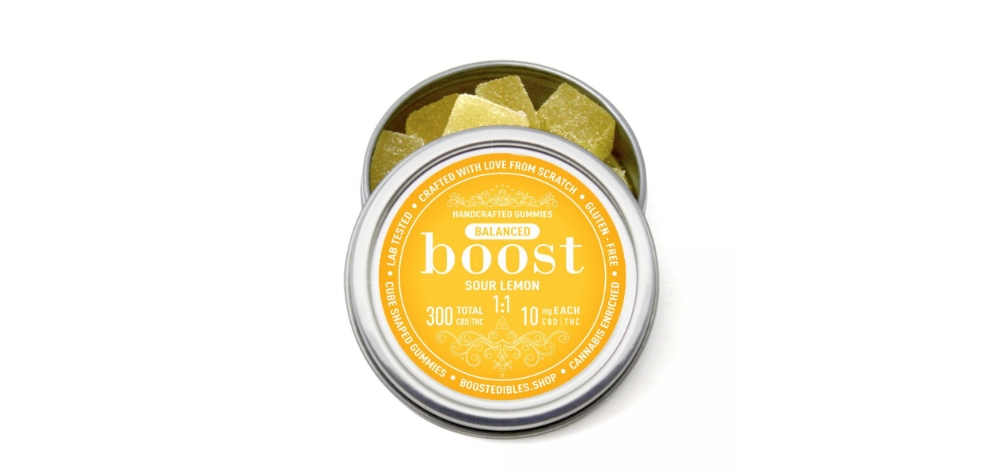 Boost Edibles Balanced 1:1 Sour Lemon Gummies 300MG
Boost Edibles Balanced 1:1 Sour Lemon Gummies 300MG is the right CBD or THC to take at night, especially for those who are not sure when it comes to taking it or not. 
This handcrafted gummy has all you crave in cannabis gummies. 
Boost edibles offer great tastes as well as provide natural flavour. 
These juicy gummies are carefully made using the best recipes to provide amazing and consistent dosage anytime you give it a bite. 
This gummy will erase any doubt whatsoever anyone may have against CBD. This CBD is designed to provide users with an "Entourage Effect." 
This implies that apart from its ability to calm down and relieve pain, users will also enjoy its psychoactive as well as the spirit-lifting qualities of THC. 
Whether you are using it for medicinal purposes or looking forward to getting in the right mood before engaging in any physical activity, it offers the same amazing taste. 
You will also enjoy the best you can derive from cannabinoids. This product is available in our pot store. 
Cannabis gummies for first-timers 
First-timers, and not only experienced cannabis users can also enjoy cannabis gummies and other cheap weed in Canada. Indeed, they are simple and convenient to use. 
Hence, first-timers may even find edibles the best point to begin their CBD journey.
However, using cannabis and practising safety is important when using cannabis, regardless of how experienced and tolerant a CBD user may be. 
It is always recommended to begin from the lowest level and slowly. Don't increase the dosage if there is no need to.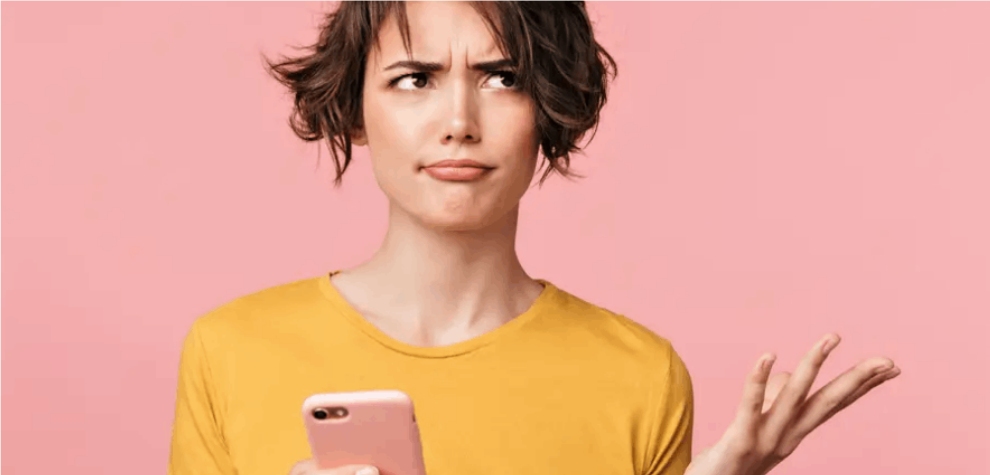 Where to buy cannabis gummy bears? 
Making cannabis gummy bears in your home has never been so easy with the right recipe. Just follow the above steps. 
You can buy different kinds of weed gummy bears as well as other CBD-related products and edibles. 
Apart from getting cheap canna from us, you can now make gummy bears with THC anytime you want once you have the above-mentioned recipe in place.