The Green Cure: How THC Gummies are Helping Migraine Sufferers
Can THC gummies help migraines, and if so, how effective are they? What other ailments can THC gummies cure? What are THC gummies anyway? 
This comprehensive guide on delectable edibles aims to answer the burning question everyone with migraines is eager to find out. 
Let's face it, if there's an alternative and mouth-watering cure for pain, we hope it's cannabis gummies. 
Besides the THC gummies effects, you will also uncover which top-selling edibles from our exclusive weed store, MMJ Express, should be on your shopping list for 2023.
With all of this in mind, here is what you must know about edibles and their effects on migraines.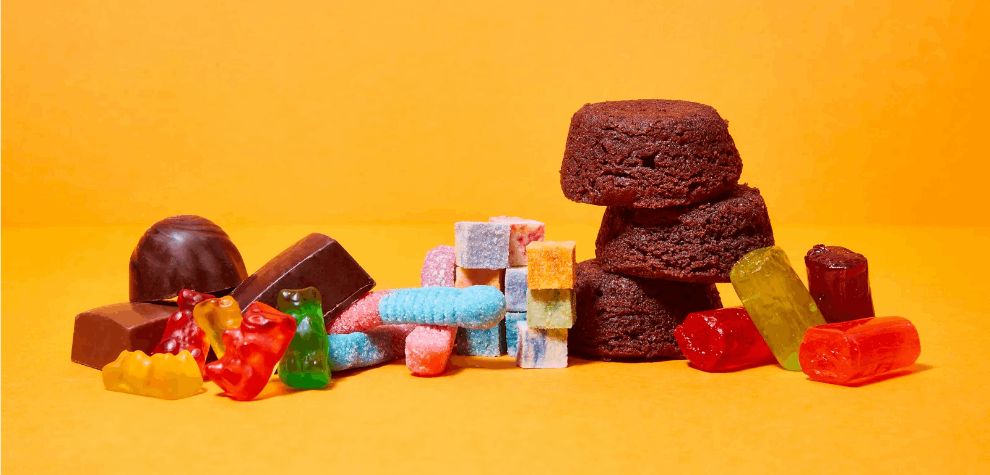 What Are Cannabis Edibles?
Cannabis edibles are food or beverage products that contain a certain amount of THC (the primary psychoactive component in marijuana) and CBD (a non-psychoactive component). 
These products are consumed orally, allowing for THC and CBD to be absorbed into the bloodstream through digestion, resulting in a longer-lasting and often more intense experience compared to inhaling cannabis. 
Nowadays, stoners can find all sorts of cannabis edibles including brownies, gummies, chocolates, syrups, and much more. 
Cannabis edibles offer several benefits including:
Long-lasting effect

: Edibles provide a longer-lasting effect compared to inhaling marijuana as they are absorbed into the bloodstream through digestion.

Convenient consumption

: Edibles are a convenient way to consume marijuana as they do not require any special equipment or preparation.

Discreet

: Edibles can be consumed discreetly, making them a good option for individuals who want to use marijuana in public places.

Dosage contro

l: Edibles come in a variety of serving sizes, allowing for easier and more accurate dosing.

Alternative for smokers

: Edibles provide a smoke-free alternative for individuals who cannot or do not want to inhale marijuana.

Health benefits

: In addition to the effects of THC, edibles may also contain CBD, which has been shown to have a range of health benefits, including reducing anxiety and inflammation.
It's important to note that the effects of edibles can take longer to onset and may be stronger and last longer than other forms of marijuana, so it's important to start with a low dose and wait for the full effects before consuming more.
Naturally, the onset time for cannabis edibles can vary depending on several factors, such as the individual's metabolism, the type and dose of the edible, and whether it is consumed on an empty or full stomach. 
On average, it takes 30 minutes to 2 hours to feel the effects of cannabis edibles.
However, as mentioned previously, it is common to underestimate the potency of edibles, especially for those new to using them.
Hence, it is important to start with a low dose and wait at least 2 hours before consuming more, as the effects may be stronger and longer lasting than expected.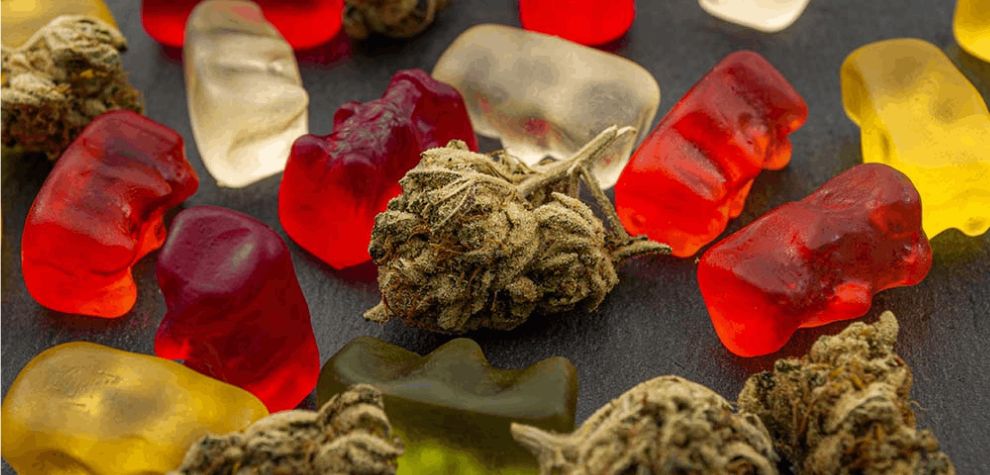 What Are THC Gummies?
As you may have guessed, THC gummies are a type of edible product that contains tetrahydrocannabinol (THC), which is the main psychoactive component in cannabis. 
These gummies are used for recreational or medicinal purposes to experience the effects of THC, such as relaxation and altered perception. 
They come in a variety of fun flavours and dosages to cater to consumers of all levels and preferences. 
Buy them from your favourite pot store or make some at home with the best weed gummies recipe, the choice is up to you!
Do THC Gummies Relieve Pain?
THC gummies and other forms of THC-containing products have been reported to help relieve pain in some individuals. 
THC has pain-relieving properties and can help to reduce pain by binding to the body's cannabinoid receptors, which are part of the endocannabinoid system that plays a role in pain regulation.
Can THC gummies help migraines? 
Researchers believe so! While the scientific evidence to support the use of THC gummies for migraine relief is limited, experts believe that cannabis gummies may alleviate migraine-related pain. 
Some people have reported that THC-containing products, including gummies, have helped to reduce the frequency and intensity of their migraines, but more research is needed to determine their efficacy.
The Best THC Gummies to Buy from Our Online Dispensary
Do THC gummies relieve pain? Yes, yes they do! Now that you know the truth, it's finally time for some shopping. 
Head to MMJ Express, the best place for weed online in Canada and purchase the chewiest, most flavoursome, and most powerful edibles. 
Here are a few top-tier THC gummies from MMJ Express to consider.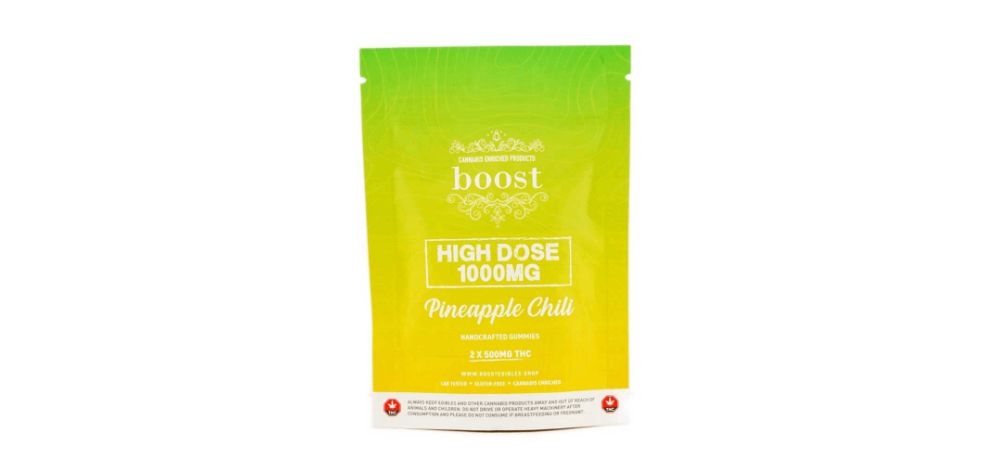 Boost Edibles High Dose – Pineapple Chili 1000MG THC Gummies
Experience the wonderful THC gummies effects with these adorable, yet potent Boost Edibles High Dose – Pineapple Chili 1000MG THC Gummies. 
The "Pineapple Chilli" flavour says it all. You can expect to feel like you are floating on a tropical island with a tasty cocktail in your hand. 
All of your stress and chronic pain will fade away and you'll finally feel like yourself (and better!) again. 
With 1000 milligrams of THC per pack (500 milligrams per gummy), you can say goodbye to crippling anxiety, stress, tension, and negative thoughts. 
Purchase the Boost Edibles High Dose THC Gummies for as low as $50.
Doobie Snacks – Sour Worms 150MG THC
If you are on the hunt for the perfect adult-friendly treat to munch on, check out the Doobie Snacks – Sour Worms 150MG THC. 
You get a whopping 150 milligrams of quality THC per pack or 25 milligrams in a single piece – that makes these cannabis gummy worms easy and super convenient to dose. 
Beginners will enjoy these THC gummy worms because they are easily divided into smaller portions. 
Use the Sour Worms to reduce migraines and other signs of pain, stimulate appetite, relieve nausea, and improve sleep quality. 
Plus, they taste phenomenal and natural. For only $12, these are the best gummies for stoners on a tight budget.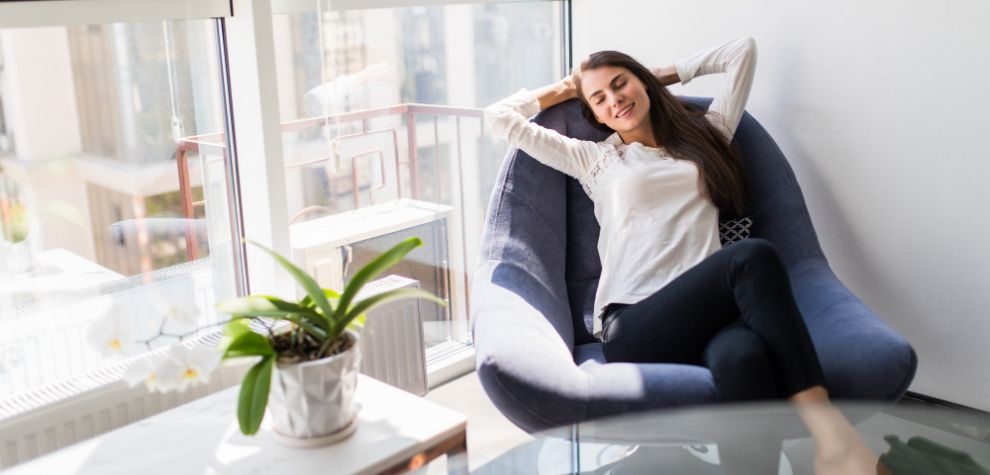 THC Gummies Effects to Consider
Cannabis gummies, like other forms of THC-containing products, can provide both recreational and medical benefits, although the benefits and risks will vary depending on the individual.
Recreational benefits:
Altered perception

Relaxation

Euphoria

Increased sociability
Medical benefits:
Pain relief

Reduced anxiety and depression

Improved sleep

Relief of symptoms associated with certain medical conditions, such as multiple sclerosis and glaucoma
It's important to note that the use of THC-containing products for medical purposes should be under the supervision of a healthcare provider, as the benefits and risks can vary greatly from person to person.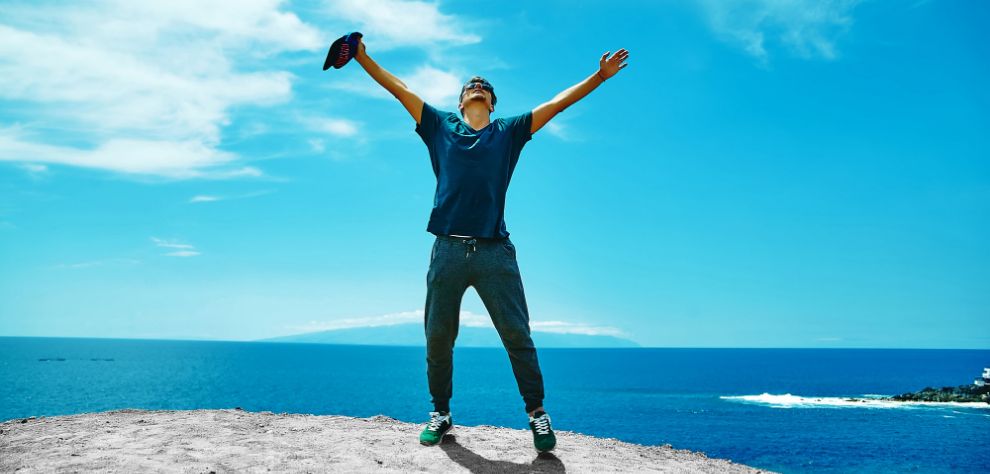 How Much THC gummies Should I Take for Pain Relief?
The appropriate dose of THC gummies for pain relief will vary depending on several factors, including the individual's tolerance to THC, the severity of their pain, and any other medical conditions they may have.
It is important to start with a low dose, such as 5-10 milligrams of THC, and gradually increase the dose until you find the level that is most effective for you. 
It's also important to wait at least 2 hours before taking another dose, as the effects of THC can take some time to become apparent.
Consulting with a healthcare provider or an expert budtender at your favourite pot store can also help ensure that the use of THC gummies for pain relief is safe and effective for you.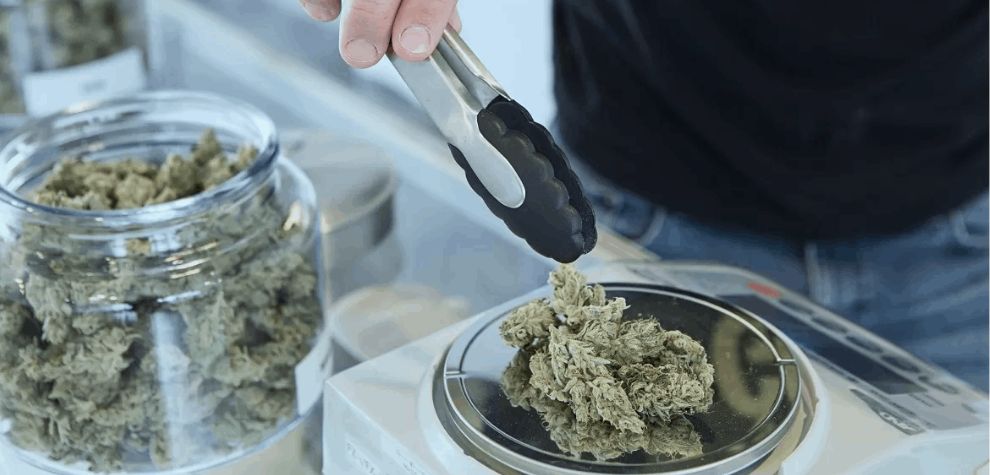 How Do I Find a Reliable Online Weed Dispensary?
When choosing a cannabis dispensary, it's important to consider several factors to ensure you find a reputable and trustworthy provider. 
Here are some tips to help you choose a good cannabis dispensary:
Quality of products

: Look for a dispensary that offers high-quality products that have been lab-tested and certified.

Variety of products

: Choose a dispensary that offers a wide range of products, including different strains of cannabis, edibles, tinctures, and topicals.

Price

: Consider the prices of the products offered by the dispensary, but keep in mind that higher prices don't always indicate better quality.





At MMJ Express online weed dispensary, you will find the best cheap canna on the market. Save a fortune without skimping on quality.

Reputation: Look for a dispensary with a good reputation in the community, and read online reviews from previous customers to get a better understanding of their experiences.





Find out why everyone is raving about MMJ Express's value buds.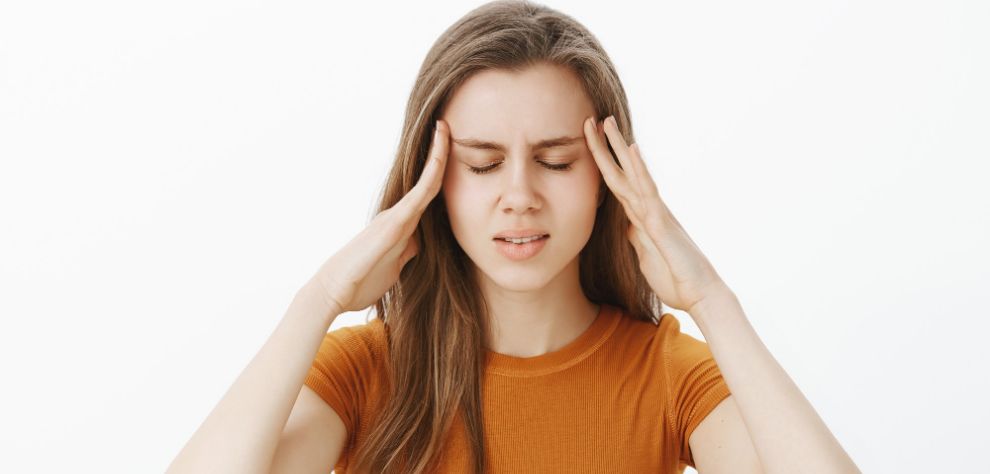 FAQ
Can THC gummies help migraines?
Yes, THC gummies can help relieve migraines and other signs of pain in your body. 
For instance, some consumers say that THC gummies help with inflammation, body pain and aches, sore muscles, and many other issues. 
Moreover, you can use cannabis gummies to improve sleep (especially beneficial for individuals dealing with insomnia) and boost focus, and energy levels.
What do THC gummies taste like?
That's the fun of it – THC gummies come in all sorts of interesting shapes and flavours. 
Check out MMJ Express, the best place for weed in Canada. This customer-favourite dispensary offers one of the widest selections of THC gummies in the country. 
Where can I buy weed online?
Can THC gummies help migraines? Yes, and they can do so much more for your overall health! THC gummies are great for insomnia, chronic pain, inflammation, and many other ailments. 
Visit MMJ Express online dispensary, the number one source for weed online in Canada. 
Buy mail order marijuana today and thank us later. Stocks are limited, so hurry up!